Kia is no stranger to electric cars, with two successful models – the E-Niro and Soul – already available, but its latest offering is set to take the brand to new heights and compete head-to-head with premium marques.
The EV6 straddles multiple segments, offering hatchback practicality, luxury saloon levels of space and a raised SUV driving position.
With a starting price of £40,945, it sits firmly in the compact executive segment, offering an electric alternative to the likes of the BMW 3 Series.
Its futuristic styling incorporates neat details such as retractable flush-fit door handles and a charging port that's cleverly integrated into the rear light cluster.
Inside, the EV6 provides an enhanced digital experience with two conjoined 12-inch displays mounted at the top of the dash. A third digital touch panel integrates all the familiar climate and infotainment controls, along with the all-important volume dial.
The newcomer shares a platform with the recently launched Hyundai Ioniq 5, packing in a 77kWh battery for a WLTP range of at least 300 miles on all variants.
Its impressive range is paired with rapid charging that sees the car replenish its battery from 10% to 80% in 18 minutes using a 350kW charger. A full charge on a 7kW home charger takes around seven hours.
There are two powertrains: a rear-wheel drive (RWD) single motor and a twin-motor all-wheel drive (AWD). The RWD serves up 229PS and provides the greatest range, with a WLTP figure of 328 miles. AWD models, meanwhile, can cover up to 314 miles.
Despite weighing almost two tonnes, the EV6 RWD travels from 0-62mph in around seven seconds, which should be more than adequate for the majority of compact executive buyers. There's a decent surge when you call for more power, thanks to the instant deployment of the motor's 350Nm of torque.
Buyers who want a more thrilling drive can, of course, opt for the AWD model. It's noticeably more potent, giving a sports-car rivalling 5.2-second 0-62mph acceleration time.
A flagship GT variant, with an impressive 577PS, will be launched next year.
Compared with its Hyundai sister car, the EV6 has been tuned for better driver engagement. Its suspension is firmer, and Kia's engineers say they have calibrated the chassis to be "a bit more fun".
That doesn't come at the expense of ride comfort though. If you avoid the 20-inch wheels on the range-topping model, the EV6 is smooth and comfortable. Wind noise is well isolated too, with nothing but a little tyre rumble to break the silence.
Drivers can choose from varying levels of power regeneration using steering wheel-mounted paddles. This ranges from a one-pedal-drive setting, which, essentially, brings the car to a halt whenever you lift off the accelerator, to a freewheeling mode.
There is also an Auto setting, which can adjust the regeneration mode based on what's happening on the road ahead.
The EV6 comes packed with all the gadgets and features you'd expect from a premium-badge car. Entry-level Air trim includes 19-inch alloy wheels, LED lights, keyless entry, heated front seats and adaptive cruise control.
GT-Line models, start from £43,945 and feature sportier body styling, rear privacy glass, electrically adjustable front seats and faux leather and suede upholstery.
Range-topping GT-Line S (from £48,445) gets 20-inch wheels, a sunroof, 360-degree camera system, ventilated front seats and a 14-speaker Meridian sound system.
So far, the GT Line S, paired with the AWD powertrain, has been the most popular model among those that have placed a deposit, with a price tag of £51,945. Kia expects the GT-Line and GT-line S models to be the biggest sellers.
The brand accepted 1,600 orders for the new model before it was available to test drive, wiping out its supply quota for at least the next year.
Kia says it is working hard to secure more stock, but dealers may have to work hard to manage customer expectations as lead times are likely to be an issue for at least the next 12 to 18 months.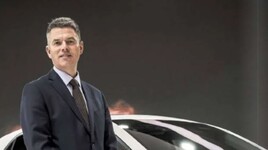 Q&A with Kia president and chief executive, Paul Philpott
How has Kia fared in the UK in 2020 and 2021?
The past 18 months have been very challenging, not only on a business level, but also personally, for so many people. I'm incredibly proud of the achievements of the team here at Kia, as well as our dealer partners that represent us in their local communities. We have all worked together to face huge challenges, despite the unpredictability of the pandemic. I'm pleased to say that Kia ended 2020 with a higher market share in the UK and across Europe – a trend we have seen continue into 2021.
How important is the EV6 in the UK?
The EV6 is the next stage in our electrification journey, which started here in the UK in 2015 with the first-generation Soul EV. As a product, it plays to the brand's strengths in design and is a culmination of skills and development expertise collected throughout the past few years with the e-Niro in particular. It paves the way for our comprehensive EV line-up in future, and represents everything that our new brand identity seeks to offer customers. Acting as a flagship EV while our all-electric sales continue to grow every year, it's a strong statement to show what Kia is capable of. In this sense, there are similarities with the Stinger, which has also been hugely powerful for the development of our brand.
What sales targets have you set for the EV6 for the UK market?
We don't release sales or production targets for individual models. However, early demand has been unprecedented, with more than 1,600 UK pre-orders for the EV6 taken even before customers have had the chance to drive it.
How important are fleet sales for the EV6?
With company car drivers incentivised to choose pure electric drivetrains, the EV6 is perfectly positioned to take advantage of the 1% benefit-in-kind taxation that is applicable in the 2021/2022 tax year, rising to 2% next. The benefits are clear and company car drivers are taking to pure electric drivetrains in their droves. Almost a fifth of EV6 pre-orders have been made by fleet buyers. We are perfectly placed with the EV6 to attract customers that want a cutting edge, distinctive, powerful and spacious electric vehicle that will wow their family, friends and colleagues with its superb design.