Polestar has released a teaser image of its fully electric Polestar 3, the vehicle that will kick-start the expansion of its EV model range.
Set to launch next year, the US-built model will line up alongside the Polestar 2 crossover in the Geely-owned EV brand's model line-up following the end of Polestar 1 coupe production.
Polestar announced in September that it will embark on a £14.6bn public listing as part of a strategy to fund "significant investment in products and the expansion of operations and markets".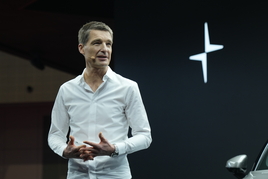 And at a presentation to investors this week, CEO Thomas Ingenlath, said that Polestar 3 is intended to be one of the most climate-responsible cars ever made and will in time offer autonomous highway piloting.
Polestar operates online-only car sales but has two franchised Polestar Spaces in the UK - operated by Lookers in Manchester and Endeavour Automotive, in London - and has plans to open two more, in Birmingham and Glasgow.
The brand is planning to launch a new car every year for the next three years, starting with Polestar 3, and plans to increase its presence to at least 30 global markets by the end of 2023.
Polestar 4 is expected to follow in 2023, a smaller electric performance SUV coupe.
In 2024, the Polestar 5 electric performance 4-door GT is planned to be launched as the production evolution of Polestar Precept – the manifesto concept car that Polestar released in 2020 that showcases the brand's future vision in terms of design, technology, and sustainability.
As the company seeks to reduce its climate impact with every new model, Polestar aims to produce a truly climate-neutral car by 2030.
Expanding presence in new markets, the arrival of three new cars, and further advances in its existing markets, mean that Polestar plans to grow 10-fold from global sales of around 29,000 in 2021 to 290,000 by 2025.
Polestar 3 will be built at the Volvo Cars plant in Charleston, South Carolina. Volvo Cars is a large shareholder in Polestar.