As Q1 draws to a close with what is likely to be a quieter than normal March plate change month, AM took a look at the new car finance offers being served up by some of the sector's leading brands.
The industry was well aware at the start of 2022 that OEMs and their franchise car retailers would not be experiencing a normal run-up to the March plate change due to persisting issues with a shortage of new car supply likely to affect the sector throughout the year.
It's no surprise then that the UK volume leader for 2021, Volkswagen, is not shouting about any specific extras on its finance page online.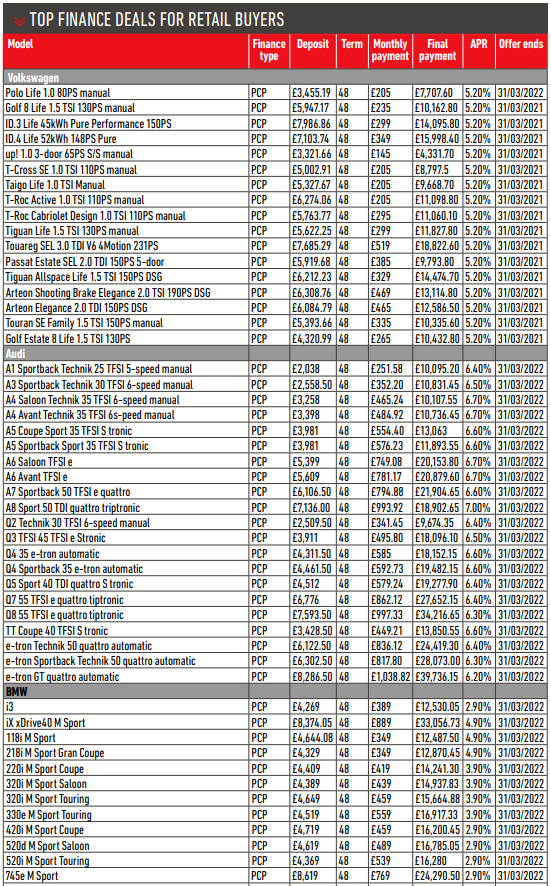 There is a blanket 5.2% APR rate across its range, which is higher than competitors like Ford which is offering 0% over 24 months on some models in Q1.
However, from an affordability perspective if a customer has around £200 available each month a wide range of VW models is accessible (dependent on part-exchange/deposit circumstances). The Up, Polo, T-Cross, T-Roc and Taigo are all priced at around £200 a month or less.
VW is also supporting customers with discounts in Q1 and, while hot EV products like the ID.3 and ID.4 don't get support, the previously mentioned models all get deposit contributions ranging from £500 on the Up to £750 on the Polo.
Fellow VW Group brand Audi pushes up the APR rate even higher, to as much as 7% in some cases.
Offering lower rate finance is not necessary for brands in demand, particularly with Audi managing to nearly increase volumes by double digits in 2021.
The A1, A3 and Q2 stand out on the more affordable end of the spectrum, all less than £350 a month.
Audi is offering deposit contributions on the majority of models – £2,750 on the A4, rising to as high as £12,500 off the A8 luxury limousine. The average discount across Audi's range is almost £2,600.
German brands dominated UK registrations last year and BMW rounds out the top three volume players.
Interestingly, compared with the VW Group brands, BMW has opted for a lower rate APR across its range, going as low as 2.9% on the electric i3, 7 Series and 5 Series, as well as 3.9% on models like the 2 Series, 3 Series and its X SUVs.
BMW is more expensive overall compared with Audi, with fewer models priced below £350 per month. Just the entry model 1 Series or 2 Series can sneak in below that level.
Those lower priced models don't get deposit support, neither do electric models like the iX3 or i4.
However, BMW is still offering strong support across its remaining models in Q1, with discounts of more than £2,000 on the 330e, £4,000-plus on the 4 Series and 5 Series, as well as up to £21,000 off the 745e M Sport.