Honda e
Honda's rival to the Mini Electric, Volkswagen's ID3 and Peugeot's e-208, the Honda E will launch in early summer 2020.
It leads the Japanese brand's plug-in vehicle product offensive, which will see it move to having an electrified powertrain in every new model in Europe by 2025.
The E features a host of new technological features that help it to stand out in the growing EV sector. These include range-saving aerodynamic features such as no side mirrors, and pop-out door handles. Traditional mirrors are replaced with compact cameras, providing live images to two six-inch screens inside the cabin. The interior features a five-screen, full-width digital dashboard and connected infotainment system.
Connected services and applications accessed through the touchscreen interface can be activated using voice commands to engage with the Honda Personal Assistant service.
Owners will be able to connect remotely to the car through a My Honda+ smartphone app, with EV-specific functions such as battery charge control and range monitor.
The Honda E is also accessible using a digital key, allowing the car to be locked and unlocked using a smartphone application.
The car uses a 35.5kWh battery, delivering a range of up to 136 miles. A fast-charging capability allows recharge to 80% capacity in 30 minutes.
Prices start at £26,160 for the entry-level model, which has a 136PS electric motor.
The Honda E Advance has a 154PS motor and costs £28,660. The E is also available on finance, with prices starting from £299 per month for the base-spec model, and £349 for Advance trim.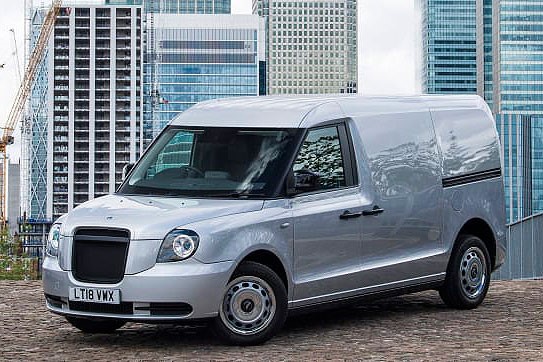 LEVC electric van
London Electric Vehicle Company, the commercial vehicle brand that recently recruited AM100 dealer groups Lookers and Endeavour Automotive to its retail network, will launch a light van for urban businesses in Q3 next year.
Fitted with a range-extending hybrid system, it will have a fully electric range of about 80 miles and an overall range of 377 miles using the 1.5-litre petrol range-extender to charge the batteries.
LEVC, owned by China's Geely, currently sells the TX electric taxi cab, which uses the same powertrain.
A spokesperson for LEVC said having a range-extended plug-in van means more businesses will be able to make the switch to new technology, without having to worry about public infrastructure hindering operations.
The spokesperson said: "Full battery-electric vans with long driving ranges are still under development, so a range-extended LCV that can carry out city centre drops in zero-emission mode, but also drive several hundred miles, can operate as a distribution to door van, not just a last-mile delivery van."
Prices for the LEVC electric van will be confirmed next year.
Robotic process automation
GForces is currently piloting robotic process automation (RPA) with dealers that will let artificial intelligence (AI) complete data entry and rekeying tasks.
Paul Stokes, GForces' head of online retailing, said: "The industry has gone a bit systems bonkers over the years.
"We're looking at introducing RPA as an additional product for retailers where they can use AI to take some of the manual data-entry processes out of employees' day-to-day .
"It's going to free up time to focus on more important areas, like customer service."
RPA works by trawling emails, documents and forms for relevant information. Stokes gave an example of a lead coming through from a manufacturer customer relationship management (CRM) system and this lead needing to be entered into a dealer's own CRM. Dealers would be able to use RPA to make sure all records are updated, but without the need for manual entry.
Stokes said: "We're also looking at marketing automation to track a customer's journey online and to customise web pages to make their experience more relevant.
"That might be something as simple as a welcome back message or automatically displaying the last vehicle they were viewing, so they don't have to search to find it again when they return."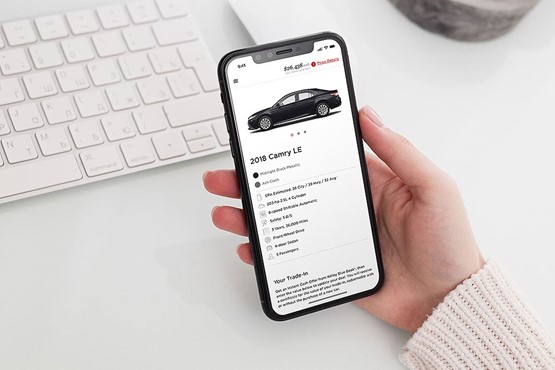 Roadster e-commerce
This California-based company wants to break into the UK market next year with dealers that want to switch on e-commerce functionality for their new and used car offerings.
Roadster is already working with about 1,000 dealerships in the US and has started trial schemes with a few groups in the UK, but is looking to expand further in 2020.
Roadster offers a white-label solution for dealers to switch on online deposits, finance applications, service plans, new car options, add-on insurance and part-exchange tools so consumers can build their own deals.
Rob Abrahams, formerly Carwow product manager and now Roadster's lead for business growth in the UK, said: "The main difference between us and other solutions out there is the tech underpinning the store and purchase flow.
"The design of the system is much more user-friendly and customers can start the buying journey at any point, whether they're at home or at the dealership. It means dealers can be truly omni-channel."
Abrahams said the target market for Roadster is likely to be small- to medium-sized groups that do not want to invest millions in an in-house e-commerce solution, but want something cost-effective that will allow them to keep pace with the market.
He said: "For those that join as a pilot dealership, there will be a discounted price point as an early adopter."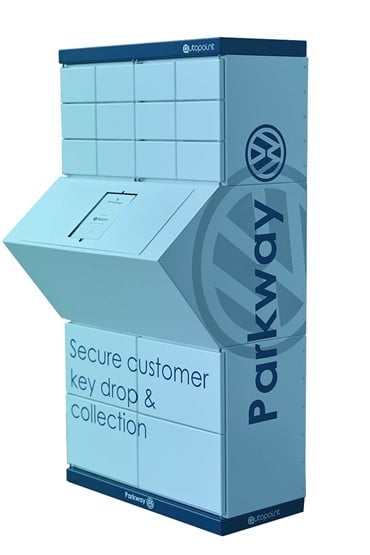 EDynamix autopoint lockers
EDynamix will launch its self-serve lockers next year. When a customer uses its online bookings systems, a code is sent, via an app or an SMS message, which can be used to deposit keys into a secure locker when dropping off their car. On arrival, the customer checks in via touchscreen, alerting staff that the vehicle is on site.
Iain Nickalls, eDynamix director, said customers will be able to pick up keys after service departments have closed, or on Sundays when most aren't open. There is also an opportunity for parts collections to be included in the lockers.
AutoPoint is currently trialling the lockers at four dealerships in the UK and one has already signed up to take on the product. One manufacturer in the UK is also looking to trial the product in 2020 as part of its aftersales strategy.
Nickalls said: "You can book a hotel room online, turn up, put a code into a machine, pay and have it issue your door key without any human interaction. You can now buy a car online and have it delivered to your door without interacting with a dealership. So why shouldn't you be able to do the same in the aftersales arena?
"Much of the automotive industry still does not offer a fully automated or integrated online bookings system and offers nothing more than a service request form, so are way behind many other industries."
5G connectivity
Mobile network EE switched on 5G on May 30 this year, but other providers such as Vodafone, O2 and Three are scheduled to switch on before the end of 2019 in major cities. More cities and towns will get 5G next year, part of a staggered launch that willsee 5G take over "core network" functions from 4G before 2022.
5G offers much higher connection speeds (up to five times faster than 4G) and lower latency (response times).
The rollout of 5G is likely to spark a gold rush of services as manufacturers, dealers and third-party suppliers look to monetise the data flowing out of vehicles.
Companies such as Intel, Vodafone and Qualcomm are developing specific automotive functionalities that take advantage of 5G, such as car-to-transport-infrastructure communication, more precise satellite navigation, high-quality audio, improved in car Wi-Fi and car-to-car communication.
Manufacturers have already been ruled by the European Commission as being "gatekeepers" of the data flowing from vehicles, but they can grant third-party access to dealerships if they wish.