While franchised dealers have been busy preparing to sell and service new electric vehicles (EVs) for a while now, used car specialists have also started to carve themselves a niche in the market.
Companies like Drive Green and EV Experts have opened in the past few years. Both are run by people who had no previous motor trade experience, but had grown frustrated by the lack of expertise for used EVs.
Martin Miller, EV Experts founder, tells AM he was inspired to start the business after he searched to buy a used EV and found the customer experience at the time lacking.
He says: "We found the main dealer experience frustrating. Most dealerships had an EV specialist. When you say you don't want a new one you get passed to the used car team and the knowledge about EVs wasn't there. We felt at that moment that we could do better."
Five years ago Auto Trader was listing around 300 used EVs and Miller says there's now a market of more than 9,000 and growing. Miller now has two EV specialist dealerships, one in Guildford and he recently opened a second site in Hook, Hampshire.
This coincided with the business' fifth birthday. The group has around 30 EVs in stock at each site. Miller has plans for further growth.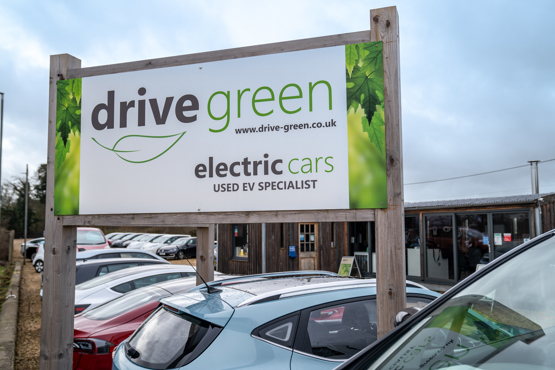 Drive Green, founded by managing director Richard Norris, has been running since 2017 and holds a stock of around 100 EVs at its site in Emborough, just outside Bristol.
He has a unique perspective on automotive sales having never set foot on a used car or franchised dealer forecourt before opening his EV specialist business.
He has plans to open a new site in 2022 in London and wants to grow the group further.
Drive Green is currently retailing around 70 vehicles a month, so stock turn is pretty quick and Norris says this is down to really finetuning what sells and understanding EV residual values (RVs).
Miller's background was in communications technology and Norris worked in sustainable energy. Both were early EV adopters in 2011.
CHALLENGES ON STOCK
The used car industry overall is feeling the pressure on finding good stock and sourcing used EVs is no different.
Used EVs are selling as fast as petrol and diesel cars for the first time, according to the latest Indicata Market Watch report.
Indicata's report showed that used EV sales had increased by 68% in April.
Jon Mitchell, Indicata UK's group sales director, says: "Used EVs are in such high demand that stock levels have fallen dramatically over the past few months.
"We have really noticed a step change in demand since the beginning of the year.
"Prices are consistently high with our regular alternative fuel auction for Arval continuing to create strong bids."
Chris Plumb, Cap HPI senior valuations editor and EV specialist, says recent EV sold data is making up more than 1% of all the data the company receives for the first time.
It currently sits at 1.1% for year-to-date (May 25, 2022) compared with 0.4% for the first five months of 2021 – an increase of 175%.
Plumb says: "It is encouraging to see that values are holding up relatively well compared with ICE vehicles despite a greater supply of used vehicles, supply and demand appear at the moment to be well balanced.
"Used car advert volumes for battery electric vehicles (BEVs) sit around 2% of our retail advert database, with the Nissan Leaf currently holding the highest volume of adverts."
Drive Green uses an established network of sources for stock and leverages its specialist market knowledge to target the right used EVs.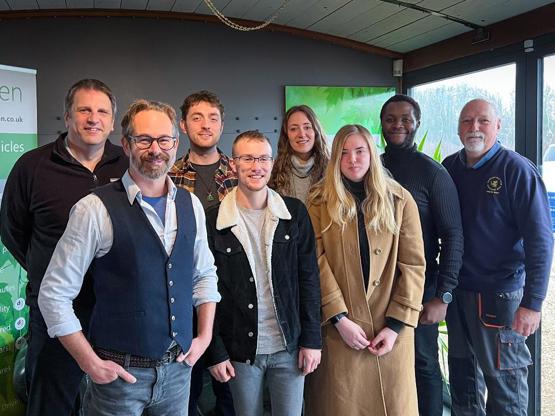 Norris says: "There are times when we have to buy a little bit more aggressively, but it's fine because we know what sells and at what price point."
Drive Green had previously preferred to buy bulk deals directly from leasing companies after negotiating a good price, but this has become more difficult as these vehicles have now been going straight to auction to take advantage of higher prices.
Norris says his team also sources stock from private buyers through a We Buy Any EV-style offering.
EV Experts says the business has to fight hard for stock. It lists EVs from £6,000 to £60,000 and has been focussing on nearly new examples.
Miller says: "We're fortunate that we work hard on our marketing and SEO so a lot of other traders will ring us up when they want to dispose of an EV and they don't know what to do with it.
"We also buy a lot from private sellers."
Miller described the RVs on EVs five years ago as "so low it was hilarious".
The business had previously been selling used Renault Zoes for £4,995, but EV Experts has recently just paid a customer £6,500 for a Zoe that he bought two years and 20,000 miles ago.
EV Experts sends ICE part-exchanges to auction or contacts its network of used buyers.
Miller says: "I can't have Range Rovers and V6s on the forecourt. It dilutes the brand. So, we never retail out our ICE part-exchanges."
THE HOLY TRINITY
The EV revolution truly kicked off with the Nissan Leaf in 2011. Norris describes "the holy trinity" of early EVs as the Leaf, the Renault Zoe and BMW i3.
It's these three older EVs that Drive Green is finding particularly popular, despite the fact they offer a shorter total range.
He says: "The perception might be that 70-mile range cars wouldn't be popular, but the opposite is true.
"People are buying on a budget. By default there are fewer of these older EVs out there just because volumes were so low back then."
With some proper consultation these shortrange EVs work well as a second car.
Even for longer distance driving, Norris still thinks they're a good option "with a bit of planning".
One area both Drive Green and EV Experts says is essential is to determine a customer's driving lifestyle.
Questions they ask potential buyers include: Do they have off-street parking? What is their weekly average mileage like? Where do they go shopping? Where's the gym? Where is work? Where are the relatives located? What occasional trips are done and how many times a year?
All this creates a picture to help inform a strategy for charging. More often than not, a home charge point is enough to sort the majority of these questions.
Miller uses websites like Zap Map to draw up a charging plan specific for each customer to highlight what their options are.
SERVICING
Both Drive Green and EV Experts believe that for specialist repairs, high voltage work, software updates, battery health queries and specialist diagnostics, customers should be directed to the franchised service network.
Miller says: "The cost of servicing is relatively low for EVs at main dealers anyway. If it's £100 for a Kia e-Niro service at the main dealer, why would you take it to Halfords?
"A Jaguar I-Pace is £250 for servicing once every two years."
Miller also recommended a specialist network of independent EV servicing specialists called HEVRA.
Norris also advises customers to take their EV to a local trusted independent garage for routine maintenance like brakes, tyres or air pollen filters.
FINANCE AND OPTIONAL EXTRAS
Norris acknowledged that Drive Green is probably "missing a trick" on profitability per vehicle.
The business does offer finance, but only if it's a route customers specifically want to pursue.
He says: "I know there's a good reason why some dealerships try to ram finance and optional extras down everyone's throat.
"That isn't something we do. It muddies the water on customer service. We're quite cost heavy on our marketing. The video work we do is expensive and we do a lot of it. The consultation process is a lot greater than it would be at another dealership.
"Our profitability per vehicle might sit lower than your average dealership, but our customer satisfaction scores are high and we're building our reputation and I think that's more important."
Drive Green has a 4.9 out of five rating on Google and a Net Promoter score of 85%.
Likewise, Miller says the focus of the business is in the margin in the vehicles rather than optional extras. Expert EVs also works with a broker to provide finance, but it's not something that's actively offered.
He says: "It's about the used vehicle margin. We keep it very simple. We want customers to have a great experience, have all their questions answered and help them find the right EV for them with a broad range of choice.
"Even if that means multiple back-to-back test drives, we want to take the time.
"We've asked our customers if they want optional extras and it's not something they're interested in."
BUSTING A FEW ELECTRIC MYTHS
One of the major differences for EV sales is needing to spend more consultation time with customers.
The list of questions expands for used EVs too, with potential concerns around battery degradation and what to do about servicing.
Drive Green will spend around two hours with customers in the first instance and will do another hour at handover.
The company supports this process online with an expanding list of in-depth guides and videos to help answer any questions customers might have during their online research process.
Customers often bring up battery degradation as one of their worries.
Norris says: "We've got cars that are 11 years old and ones with 100,000 miles that are fine. It's easy to bust that myth.
"It's true that the capacity of the battery degrades. How important that is to you depends on your lifestyle.
"A 100-range car that has done 100,000 miles on the clock might be an 80-mile range car. It's not what people think."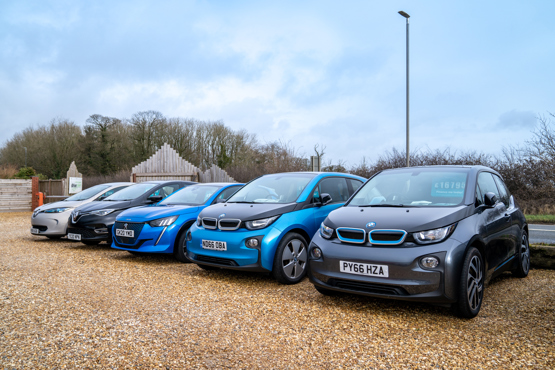 Miller says battery degradation is a straight line, not a curve. He says EVs lose between 1-2% of their battery capacity due to degradation per year.
He adds: "It's standard across all EVs and there's not one brand that's better than the other.
"The majority of EVs have their batteries made by one of four brands, so it's pretty universal."
Plumb likens battery degradation on used EVs to mileage for ICE vehicles as an important indicator for future value.
He says: "Nearly all new EVs are supplied with an eight-year battery warranty so degradation does not seem to be so much of an issue with consumers, maybe through a lack of awareness of the importance of retained battery health data and also the difficulty in obtaining this information."
Cap HPI has seen some manufacturers making battery health information available on request to customers, while others don't offer this option.
He says: "We believe the one area of the market where data is still lacking remains around the state of health of a battery.
"There are also some third-party hardware/software solutions available in the aftermarket, but coverage is very limited."
EV Experts has formulated its own method of figuring out used EV battery range. Miller prefers that this mathematical process not to be published, although he did explain it to AM.
However, he adds: "We never quote the WLTP figures. We drive every EV that comes in for 48 hours and we use various methods to check the range.
"You have to use real-world figures. If we sold a 2016 Leaf which had a 120-mile range, you could easily sell that as a 100-mile range car. If you advertise used EVs as having the same range capacity as new you're going to have some unhappy customers."