Dealerships have been warned against unduly increasing their workshop labour rate as electric cars and vans become commonplace or risk losing major customers.
Lorna McAtear, the manager who oversees National Grid's 3,000-strong vehicle fleet, told AM's sister brand Fleet News that she although she recognised that workshops will need to navigate the switch from servicing ICE vehicles to EVs, with the consequent loss of oil profits, any price hikes they might be considering must be justifiable.
"Any garage that puts the labour rate up on EV disproportionately to an ICE vehicle, when we all know less work is needed, then I'm going to walk away," she said.
McAtear, who in 2021 was named the Barbara Cox Woman of the Year in the UK automotive industry, highlighted how BEVs do not need to be serviced so frequently, giving fleets further savings, particularly in terms of downtime.
"Over a three- or four-year period, you might send it in twice, whereas on an ICE vehicle, you'd send it in every year," she said.
Her view was echoed by Ashely Barnett, head of fleet consultancy at Lex Autolease, who said EVs can be up to 50% cheaper to maintain than their ICE equivalents.
Data from Fleet Assist shows the difference is not quite so large. It found the average transaction value of a service for a battery electric vehicle (BEV) is currently about 22% less than an equivalent internal combustion engine (ICE) car, new data suggests.
Much of this can be put down to reduced labour times which are currently 33% shorter for BEVs than ICE cars, according to analysis of 850,000 fleet cars and vans using Fleet Assist's 5,200-strong franchised and independent garage network.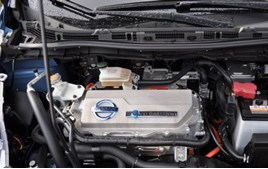 The parts component of a BEV job is also typically 28% cheaper than an ICE car due to them having fewer working parts, with brake wear far lower.
SMR data shows that currently the most common BEV parts being replaced are pollen filters, bulbs, key fob batteries, wipers, and brake fluid.
Fleet Assist says that the service, maintenance and repair (SMR) cost gap widens further, when you factor in parts prices have risen by around 10% in the past 12 months.
However, it warns that dealerships are looking to raise SMR costs further to retain their profitability as they start to feel the pinch from reduced servicing revenues as drivers cover fewer miles and a rapid rise in operating costs, particularly technician salaries.
Fleet Assist was contacted recently by a franchised workshop that was considering implementing a specific BEV servicing labour rate of £125, an 89% increase over the equivalent labour cost of servicing ICE cars.
Vincent St Claire, managing director of Fleet Assist, explained: "Garages are already starting to come to terms with how EVs will impact their servicing revenues and workshop traffic in the longer term.
"We may see more garages looking at ways to address how the paradigm shift of BEV aftersales is going to challenge their service provision and fees they charge."
Fleet Assist says garages are having to take their future investment and growing overheads into account.
This includes technician training, a continued provision of a collection and delivery service and courtesy vehicles and upgrading their workshops to manage BEVs, which includes multiple software updates.
A recent survey by The Motor Ombudsman confirmed that six in 10 garages expected to raise their prices in 2022 to remain profitable against the background of rising overheads.