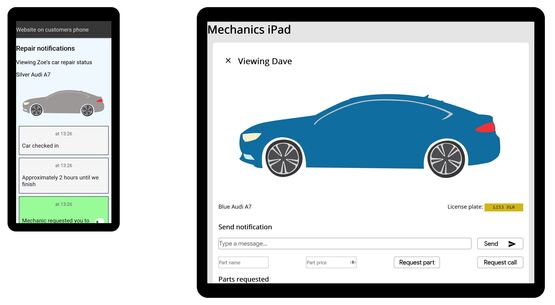 A university student's technology concept that would easily help dealers inform customers of their car's progress through service has won the inaugural Keyloop Dealer Tech university automotive technology competition.
Created by computer science student Brian Evans of Exeter University, the web-based platform prototype includes pre-populated messages that can be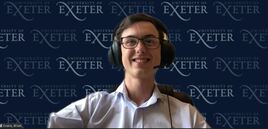 quickly issued to a customer, including information regarding additional work that is recommended and the ability for the customer to authorise extra cost.
Evans had considered its integration with existing systems such as video.
In total 180 students from Bath, Exeter, Buckingham, Warwick, Surrey and Southampton universities registered to participate in the competition created by Keyloop (formerly known as CDK Global International).
Of these, 18 teams progressed through an 'idea development phase' when their proposals were built into product ideas with the aid of a Keyloop mentor, before one team from each university was selected to win £3,000 and a place at the grand final where the overall winner would scoop another £10,000.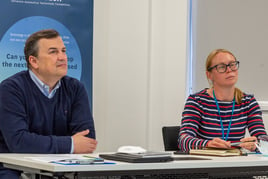 Those six teams all presented their projects remotely at this week's grand final to a panel of five judges consisting of Automotive 30% Club founder and Gaia Innovation chief executive Julia Muir, AM editor Tim Rose and from Keyloop its chief executive Tom Kilroy, marketing communications director Michelle Wells and vice president for commercial Joaquim Croca.
Kilroy (pictured right, below) said: "It was an extremely tough decision, but in the end, we thought that Brian's concept was very effective in solving a real-world problem faced by dealerships, with good potential for scalability.
"He presented a well-thought-through idea that taps into the consumer trend for tracking and analytics, which is precisely the type of creative thinking and commercial initiative we were looking for."
On securing total winnings of £13,000, Evans said the windfall would be useful for a deposit on a house.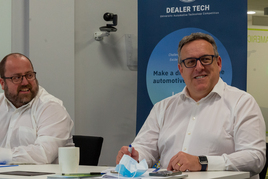 "Participating in the competition has been an amazing experience. It has brought together university students to imagine a better future for the automotive industry and I've thoroughly enjoyed taking part," he said.
With diversity and inclusion a key focus for Keyloop in its vision for future talent in the industry, it was also heartening to see the finalists displaying a blend of male and female team members with international students stationed at home as a result of the pandemic.
Team finalists joined the national final remotely from countries including Sweden, China and South Korea.
The concepts from the finalists included a wide range of ideas, including a driving analysis tool that profiles driving styles to deliver personalised service and purchasing recommendations, a platform that handles the logistics behind the movement of vehicles, and a platform that connects dealership salespeople with customers via live chats and video calls.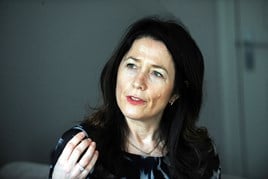 Julia Muir added: "It has been a real pleasure to witness the creativity and passion the students have brought to problem-solving for the future of the automotive industry. This was perfectly demonstrated by Brian's concept, which is an innovative tech solution that improves the customer experience and enables the dealership aftersales staff to work smarter and more efficiently.
"The Dealer Tech competition provides young talent with a taste of what working in automotive and technology could be like. Without real-world experiences or role models, it can be hard to understand what goes on behind the scenes in the industry.
"I hope that this experience has inspired students to seek out career opportunities they might not have otherwise, and I look forward to seeing what they do next."
AM editor Tim Rose added: "I've often suspected many young people's awareness of the UK automotive industry is limited to the highest profile vehicle manufacturer brands with factories here.
"So to see these students so passionately engaged in identifying some of the technology challenges that dealers face is really heartening, and credit is due to Keyloop for engaging with universities in this way."
The national finalists in the 2021 Dealer Tech competition were:
Tandem, University of Bath: Lilla Polus, Shraddha Shetty, Alex Bilyi, Alaz Erdinc, André Mugliett
Brian Evans, University of Exeter
Bucklers, The University of Buckingham: Thomas Humphreys, Yoon Cho, Jesper Hansson Liedholm
Duopoly, The University of Warwick: Nkosinathi Khumalo, Yunus Ansari
OmniPerson, The University of Surrey: Murat Yilmaz
Automotiv, The University of Southampton: Si Wu, Ikenna Orabueze, Vaishnav Shinde
Keyloop has worked closely with the SETsquared Partnership, and additional contacts from leading research-led universities to support student teams with their ideas.
SETsquared is the enterprise partnership between five leading UK universities (Bath, Bristol, Exeter, Surrey and Southampton) that provides support programmes to help students, researchers and entrepreneurs to turn ideas and innovation into successful businesses.