Ineos Automotive has appointed 24 dealers in the UK, ahead of the launch of its Grenadier SUV in May.
The new franchisees include AM100 dealer groups Cambria, Harwoods and Jardine.
Ineos will work with its new retailers to set up their outlets and be ready to welcome customers in the next few months. The process includes an intensive Ineos training programme for the sales agents and workshop technicians.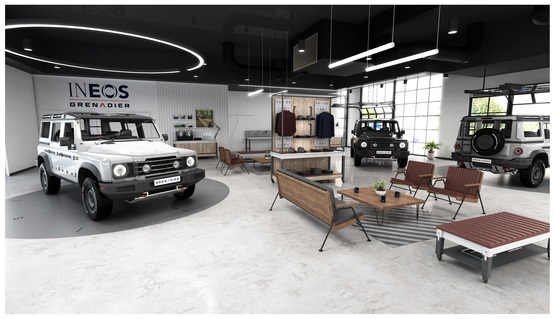 Order books for the Grenadier are expected to open in May. The first of the newly nominated sites will open in June.
Gary Pearson, head of UK and MENA for Ineos Automotive, said: "We have worked tirelessly for over a year to find retail partners in the UK that share our enthusiasm and excitement for the Grenadier.
"They understand 4X4 users and their requirements, and have a proven track record for exceptional customer service. Together with these partners, we look forward to providing Grenadier customers with the advice, guidance and support they need."
In September, Ineos said it was specifically targeting existing BMW franchisees due to their existing "expertise in servicing the Grenadier's BMW engines".
The 24 UK sites are among the first 160 locations to be confirmed in markets around the world. By the end of 2022, Ineos plans to have a network of 200 sales and service sites for the Grenadier spanning over 50 countries, including established dealer groups, 4X4 specialists and agricultural equipment dealers.
The aim is for the majority of customers in the UK to always be within 45 minutes of an official sales and service location.
The 24 Ineos retail locations confirmed so far in the UK are:
Bowker, Ribble Valley
Busseys, Attleborough
Cambria, Birmingham
Cambria, Edinburgh
Car Barn, Beamish
Chandlers, Belton
Chandlers, Horncastle
Compass, Bridgwater
Day's, Neath
Denton, Skipton
Endeavour, Gerrards Cross
Halliwell Jones, Chester
Harwoods, Portsmouth
Heritage, Dorchester
Heritage, Gloucester
Hollybrook, Belfast
Jardine, Colchester
Jardine, Sevenoaks
JT Hughes, Telford
Lloyd, Carlisle
Ocean, Plymouth
Sandicliffe, Nottingham
Northampton, retailer confirmed
West London, retailer confirmed