All-electric city car brand smart is set to upscale its customer offering with the unveiling of a new SUV model developed in partnership with Geely.
The unveiling of the production-ready version of its #1 model will take place at STATION-Berlin – a historic former train station in the German capital – on April 7.
The new SUV model is the inaugural product of the new joint venture between smart's parent company Mercedes-Benz and Geely Automobile and follows the earlier display of the #1 model concept at the Munich Motor Show.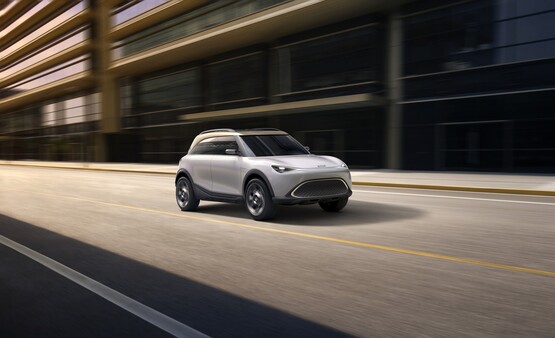 Smart announced back in 2019 that it had partnered with LEVC, Lotus Cars, Polestar and Volvo Car UK parent company Geely in a 50/50 joint venture to own, operate and further develop the brand as a premium electric vehicle (EV) pioneer.
Under the joint venture agreement, a new generation of smart electric models will be assembled at a new purpose-built electric car factory in China.
Smart UK chief executive David Browne said: "This is a truly exciting time for the smart brand. The upcoming reveal of the smart #1 is a key milestone in the evolution of our brand, reflecting our history of innovation, outstanding design and space efficiency.
"Our dedicated electric platform and high degree of connectivity make for the ideal electric car to meet the needs of UK car buyers."
Franchised retailers for the smart brand will be hoping that the emergence of new EV models will spark a sales resurgence for the city car brand.
Last year's Society of Motor Manufacturers and Traders (SMMT) new car registrations figures showed that smart registered 1,581 vehicles, 14.8% up on 2020's 1,377.
A statement issued by smart said: "With the renewal of its brand, product and business model, smart has entered a new era of development, with the expansion of its product portfolio and global reach."
It added: "The combination of Mercedes-Benz design and smart engineering creates a compelling proposition. A pure and elegant exterior design provides a perfect balance of aesthetics and aerodynamics underpinned by depth of engineering and premium quality. The smart #1 has recently completed extensive pre-production testing in northern China, with its battery and technology systems being put to the ultimate test in -40°C temperatures."