Marshall Motor Group emerged as the highest ranking automotive company in the Great Place to Work UK's Best Workplaces Programme 2019 – finishing in 11th place.
The AM100 retailer moved up 10 places from last year's rankings as it featured among the annual survey's Large category – for organisations with 500 or more employees – to achieve Great Place to Work status for an eighth consecutive year.
Taking to LinkedIn to celebrate the success, Marshall chief executive, Daksh Gupta, said: "Everyone knows people make a business and that's very true at Marshall.
"I am really proud of our teams who make a difference to our culture and customers each and every day.
"Colleague engagement is having a real positive impact on our business. Turnover is dropping at a rapid rate and our senior management population turnover is at its lowest level since I joined at just 14%."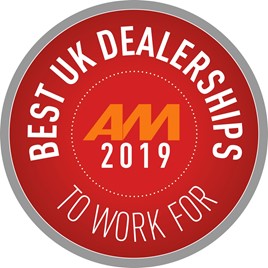 Do you want to drive workforce engagement, identify potential areas to improve your workforce's levels of satisfaction and productivity? Click here to be part of AM's free UK Best Dealerships to Work For Programme. Entries close on June 7.
Volkswagen Financial Services was the only other UK-based automotive sector business to make the Great Place to Work UK's Best Workplaces Programme 2019 rankings – finishing in 16th place.
The methodology behind the UK's Best Workplaces Programme comprises both an employee survey and an audit into the organisation's management and HR practices.
The award recognises the strength of leadership and the range of innovative, creative and effective HR policies which create the workplace culture.
Commenting on the process following last year's 21st-placed ranking for Marshall, group HR director Helen Burrows said: "Encouraging our colleagues to share their valuable opinions and ideas and then us acting on what they have said, creates the foundation for our Best Workplace culture."