Lookers Group claims to have created "a true destination for everything Audi" with the official opening of its new 63,600sq-ft car dealership in Farnborough.
The new facility in Hampshire has come as part of the AM100's second-placed group's significant recent investment in the German premium brand, and follows the £3m refurbishment at Guildford Audi and a similar makeover at Basingstoke Audi last year.
A statement issued by the group this week said that all 120 staff would be transferred to the new dealership site, on Templer Avenue, Farnborough, from its former franchised location at Camberley.
The new dealership delivers larger facilities for the group's customers in the region, including a 20-car showroom and space for around 200 used cars.
The site's aftersales facilities, meanwhile, include 30 servicing and maintenance ramps.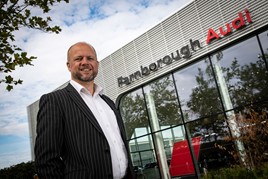 Michael Wrigley, head of business at Farnborough Audi, said: "We are delighted to be opening Farnborough Audi, a landmark centre for us, for Farnborough and a true destination for everything Audi.
"As one of the largest Audi centres in the UK, we have a massive selection of new and used Audi on display and the very latest digital customer presentation lounge to showcase the full range."
Cameron Wade, franchise director for Lookers Audi, said: "Lookers Audi Farnborough is an incredible Audi destination for colleagues and customers alike.
"We are really excited to be showcasing Audi's incredible new product range within this incredible facility while having the opportunity to deliver state of the art aftersales care.
"We look forward to welcoming all our customers to Farnborough Audi."
Lookers has invested heavily in flagship retail spaces during 2019, with February bringing the opening of a new flagship three-storey, £10m Volkswagen showroom in Battersea followed by the reveal of its plans to bring the Jaguar and Land Rover brands together under one roof with the creation of a new 16,193sq-ft Jaguar Land Rover (JLR) Dual Arch Concept dealership facility at Aston Clinton, Buckinghamshire.
Last week the group revealed that it would be closing its Ford dealership on Yarm Road, Stockton on Tees, on September 27, however.
The facility was part of the Jennings Group acquisition completed in September last year.
At the time of the acquisition Lookers chief executive, Andy Bruce, had said that the company was "delighted" to expand its key partnership with Ford.
Lookers also operates the newly-refurbished Ford franchise in Middlesbrough.