WLMG has expanded MG Motor UK's presence in Greater London with the opening of a new Eastcote showroom to coincide with the arrival of the fully electric new ZS EV.
The dedicated six-car showroom on Field End Road, Eastcote, Ruislip, Middlesex, benefits from full service and maintenance facilities located at the group's South Ruislip Service Centre, a customer lounge with free Wi-Fi and an "extensive and varied range of used cars", according to a statement issued by the brand.
The opening follows the opening of WLMG's first MG Motor UK, in Marylebone, back in May.
Neill Jackson-Smith, group sales operations manager at WLMG Group, said: "We were keen to further our relationship with MG, following the successful launch of our Marylebone dealership earlier this year.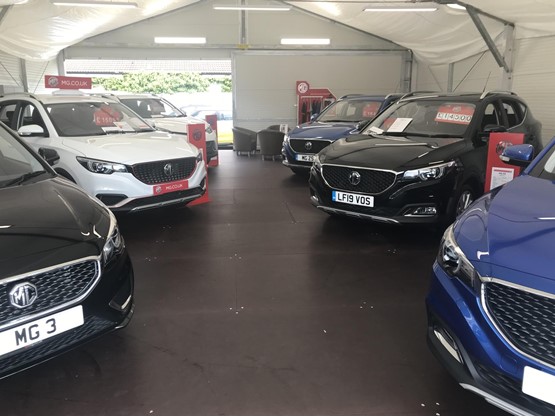 "WLMG Eastcote benefits greatly from strong passing trade, with a strong relationship between both London sites allowing customers to profit from wider access to customer support and vehicles.
"MG has great potential to continue to grow and expand in the coming years, with a host of new vehicles set to join the range.
"This is a great time to affirm our commitment to the MG family and look forward to delivering value-for-money motoring to new and existing customers."
Last month East Anglian motor retailer Donalds Group added its first MG franchise and revealed that it is set to add a second.
Donalds MG opened its doors at Burghley Road, Peterborough – sharing the location with a long-held Mazda franchise – in early September and the group will add a second Donalds MG showroom, in Stamford, this month.
The openings come as MG Motor UK aims to grow its UK franchised retail representation to 120 sites by the end of 2020.
MG's recent growth has been underpinned by the success of its first all-electric vehicle (EV) – the ZS EV SUV.
Since order books opened in mid-July, the ZS EV, which claims to offer a 163-mile range, has amassed more than 2,000 orders.
These first customers were able to grab the all-electric family SUV from just £21,495 after MG matched the government's £3,500 plug-in car grant with a £3,500 grant of its own.
The brand has now announced that, thanks to exceptional demand, it will continue this offer for the next 1,000 retail customer orders.
In line with MG's new EV corporate identity standard requirements, WLMG Eastcote's dealership is fitted with both standard and rapid charging facilities, providing customers with the opportunity to learn more about the electric vehicle infrastructure.
David Allington, network development manager at MG Motor UK, said: "We are delighted to add another WLMG outlet to our ever-growing dealership portfolio, bringing true value-for-money motoring to the North London market.
"As part of MG's long-term growth strategy, we are constantly strengthening support for new and existing customers with our rapidly expanding dealer network and are on course to have 120 dealerships live by the end of 2020."