MG Motor UK has extended its 'MG Grant' customer offer which makes its debut electric vehicle (EV), the ZS EV, available from £21,995.
Following the sale of 2,000 of the zero emission SUVs by the brand's 100 franchised retailers, in the space of just two months, the brand is keen to continue the success of its fastest selling model since its re-launch under Chinese ownership in 2006.
The continuation of the MG Grant scheme sees MG match the government's £3,500 plug-in car grant on the ZS EV Exclusive for the next 1,000 retail customers, meaning that the 163-mile WLTP range vehicle is available from just £21,995 after grants
Daniel Gregorious, head of sales and marketing at MG Motor UK, said: "Since the official launch of the ZS EV in July, MG dealerships across the country have reported unprecedented demand from customers eager to get behind the wheel.
"We have listened to all of the positive feedback and are delighted to offer this fully electric family SUV to the next 1,000 retail buyers from just £21,995.
"Our mission at MG is to make high-tech, zero-emissions cars available to all, and we are well on our way."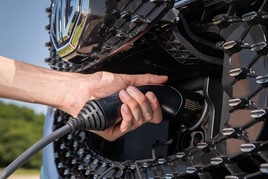 MG renewed MG Grant supports the uptake of zero-emissions motoring which is gathering pace according to the latest vehicle registrations data from the Society of Motor Manufacturers and Traders (SMMT).
In preparation for the arrival of its firs full EV, MG Motor UK rolled out a range of new hybrid and electric vehicle (EV) standards across its 92-site dealer network ealier this year.
The standards equip MG's existing sales staff and technicians with the knowledge to support customers in both the sales and aftersales of electrified cars.
Order books for the ZS EV opened in May and the vehicles' subsequent sales performance mirrors that of the Kia e-Niro, which sold its first year's allocation within the first month.
Kia is limited to around a 1,000 units per year due to battery supply issues, however, while MG has said that it has no supply issues following the opening of a new battery factory in China that can produce 300,000 units per year.
The MG ZS EV can be pre-ordered through the MG website with a fully refundable £500 deposit.