Robins & Day has opened the doors at its new Peugeot dealership in Maidstone after making the move from its "landmark" grade II listed facility nearby.
AM reported on the PSA Group-owned AM100 retail group's plan to shift its operations from Mill Street, Maidstone, in August last year, as plans to transform the 1930s art deco facility into a residential development.
Now the move to a new facility on Cuxton Road, Parkwood Industrial Estate, has been completed and the added space and upgraded facilities have created excitement among the business' staff.
Steve Edwards, general manager at Robins & Day Peugeot Maidstone, said: "We are very excited about the relocation and development of Robins & Day Peugeot Maidstone.
"The new dealership offers the same exceptional service to all of our customers but with enhanced facilities and surroundings.
"Our staff are delighted to have these new exceptional facilities, and we are excited to welcome both existing and new customers through our doors."
The new Robins & Day site was officially opened by David Peel, managing director of Peugeot UK, on November 18.
Robins & Day chief executive, James Weston, said: "The move of Robins & Day Maidstone to their new modern facility demonstrates the vision of the Robins & Day group.
"The Maidstone Len House Dealership is part of Robins & Day's 100-year history, with the new site in the Parkwood Industrial Estate reflecting the future of the Dealership."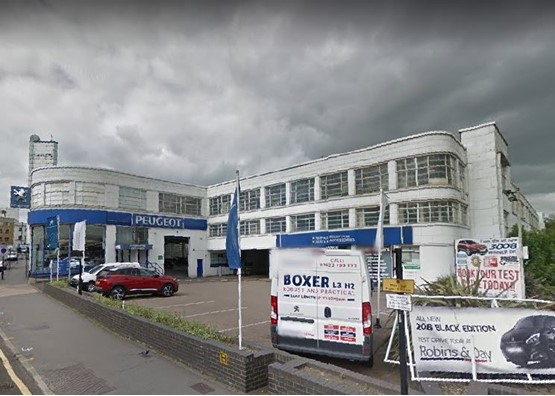 Robins & Day Peugeot Maidstone has historically been located at Len House at the bottom of Mill Street.
Len House was built in 1938 by Howard and Souster, complete with a filling station and repair workshop for Rootes, then the biggest car manufacturing company in the country.
A stamen issued by Robins & Day this week said that the new, purpose-built dealership will give customers an effortless experience with all departments under one roof, improved car parking facilities and "no need to navigate Maidstone's busy one-way system any longer".
Weston added: "This is another great example of our development strategy in key cities and metropolitan areas.
"Maidstone has long been a successful Peugeot operation for us, and the new facilities offer an improved environment for both customers and the Robins & Day team.
"The team have done a great job maintaining the business during the development works and I'm confident of growth going forward."