8FRF Volvo Swansea has become the Swedish premium car brand's latest franchisee to invest in its Volvo Retail Experience (VRE) corporate identity – breaking ground on a new £1.75 million dealership redevelopment.
The Swansea-based retail group's franchise will introduce all the latest CI's defining features – including Volvo's signature large lounge area, glass walls which allow customers to see workshops activity and free Wi-Fi – with the work on its site on Valley Way, Llansamlet.
A larger showroom, including a greater display of Approved Used Volvo Selekt models on the forecourt and increased customer parking, will also be created by the scheme.
Dominic Hall, sales manager at FRF Volvo Swansea, said: "We are delighted work has begun on the new site in Swansea, not least because this impressive development reflects our commitment to improving customer experiences and efficiency.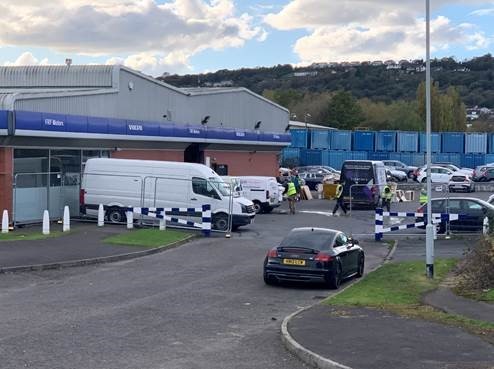 "This investment isn't just about a change of furniture, it's designed to make our customers feel relaxed and at ease in an environment that provides flexible waiting, working and assessment areas.
"The launch of our new Volvo Personal Service will help to connect our customers with their technicians, for a smooth and efficient experience.
"Our focus is always on putting the customer first and also giving them a high-quality service, so we can't wait for the completion."
Speaking to AM magazine this month, Volvo Car UK's new managing director said that the OEM needs to ensure its retail network is ready to adapt to emerging trends.
Kristian Elvefors swapped roles with UK managing director Jon Wakefield in June this year.
FRF Motors Group operates Volvo and Toyota dealerships in Swansea.
In the group's financial results to December 31, 2018, it reported a 5.8% increase in turnover, from £66.4m to £70.3m, as profit before tax declined 19.2%, from £2.5m to £2.1m.
Volvo is one of few brands bucking the UK's declining new car registrations trend in 2019.
The latest data published by the Society of Motor Manufacturers and Traders (SMMT) showed that the Swedish carmaker's sales had grown 14.3% to 48,069 year-to-date to the end of October.