Hendy Group's 2019 Group Awards has recognised the top performers among its 2,000-strong workforce after what was described as a "landmark year" for the 160-year-old business.
Hendy begun its anniversary year in style with the awards event, which was hosted by former England international rugby player and Question of Sport TV personality Matt Dawson at the Bournemouth International Centre.
Sales and aftersales award ceremonies were brought together for the first time at the event and a total of 16 awards issued to employees of the group's 20 franchises across Hampshire, Dorset, Wiltshire, Sussex, Surrey, Kent and Devon.
Hendy Group chief executive, Paul Hendy, said: "2019 was a real milestone for Hendy with 160 years in business, the acquisition of Westover in Dorset and Wiltshire, the opening of the Dorset Car Store and the launch of Hendy Foundation.
"These awards are a chance to reflect on the success of the year and we are delighted to mark this with our first ever Group Awards."
Hendy said that the group had sold more than 56,000 vehicles in 2019 and stated that he was "extremely proud" of the contribution everyone makes to the success of the company.
Awards recipients
Among the 2019 Group Awards' winners on the night was Andy Smith, director of Hendy Parts and Power, who joined Hendy straight from school 43 years ago.
Hendy said that Smith had been instrumental in the success of the group.
Elsewhere in the business Alex Galloway, from Hendy Ford Redhill, was named Apprentice of the Year, Jessica Watson, from Hendy Mazda in Eastbourne, picked up the award for Outstanding Achievement in new vehicle sales and Dawn Barrett named Commercial Vehicle and Fleet Sales Advisor of the Year.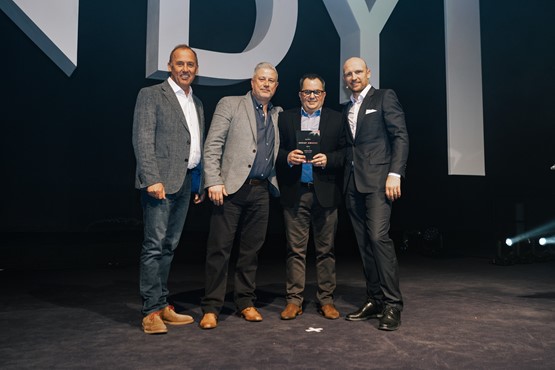 Hendy's Unsung Hero Award went to Mark Sanger, who works as group used car buyer, and the New Car Sales Advisor of the year was Stuart Hall from Hendy Jaguar Land Rover in Christchurch.
Used Cars Sales Advisor of the Year was Will Ludford, from Hendy Ford in Tunbridge Wells, and Zoe Hathaway, from Hendy Fiat, Hyundai and Renault in Poole, was named Aftersales Advisor of the Year.
Declan Kilpatrick, from Renault Dacia Brighton, was also given an Outstanding Achievement Award which was presented for used vehicle sales management.
Hendy Group's Leader of the Year was parts depot operations manager Scott Beeby and Team of the Year accolade went to the truck service department at IVECO Southampton.