LSH Auto's sprawling Mercedes-Benz dealership site in Stockport has begun a recruitment drive to find 15 new members of staff despite embarking on a digitalisation drive during COVID-19 lockdown.
The dealership site – officially opened in August 2019 and was central to an AM car dealer focus feature on the AM100 retail group at the time – is recruiting 10 full-time 'experience partners' to join its sales team, with four weekend roles and a full-time handover experience partner role open to applications.
Recruitment of the new members of staff comes despite LSH's move to an "appointment-only" operations model at the site, with many sales and test drive functions fulfilled online.
The approach is a far cry from managing director, Martyn Webb's original vision for the vast 10-acre site, which he intended to be a "destination" for shoppers, businesses and car buyers alike.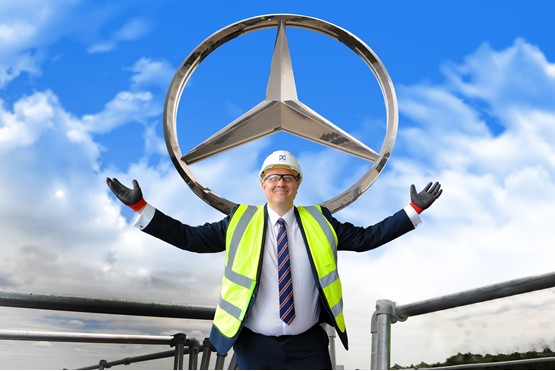 Complete with an illuminated 15-foot-wide three-pointed star on the roof, the "car retail village" is made up of a three-storey, 3,492-square-metre 'Autohaus' retail space accommodating 140 vehicles, a cinema room, a staff canteen and a gym, and a 17,166-square-metre building to the rear housing 32 workshop bays, a pre-delivery inspection (PDI) centre, paint and body shop, trade parts facility and used car storage for the wider market area.
Commenting on the changes to the business since the start of the coronavirus pandemic, Webb said: "We know that a number of our customers still wish to shield at home, so we have also launched a full digital platform to enable them to browse online, book a solo test drive from their home, buy online and choose either the click and collect option or home delivery.
"It's been incredibly popular and our customer experience team have helped more than 19,000 customers over the phone or via online chat and emails over the past 12 months."
Webb added: "We're a business that always looks to the future and we never rest on our laurels. We're constantly looking for ways to improve our service for our customers and we're grateful for their continued support."
August 2019's opening of the Stockport facility followed a series of investments in property by LSH in the UK, with April 2019's opening of a 200-vehicle used car 'centre of excellence' in Erdington, Birmingham, followed by the creation of a similar operation in Manchester earlier this year, being another element of the group's growth.
It replaced a cramped two-acre site on nearby Wellington Street.
A statement issued by the group this week revealed that the Stockport business has grown LSH's new car sales in the town by more than 21% and used car sales by 34%, over the last 12 months, despite the UK lockdown which closed the showroom in April, May and June 2020.
During that period LSH grew its team at the site by 27%.
Both aftersales and servicing facilities at Mercedes-Benz of Stockport remained open during the lockdown period in order to provide essential services for key workers including NHS staff, police and firefighters.
Webb said: "Mercedes-Benz of Stockport has had a fantastic first year of trading. Despite the impact of COVID-19 and the UK lockdown, we're in good shape and are looking forward to continuing to grow the business into 2021.
"Our success is testament to the fantastic team that we have and their commitment to delivering the best possible service to our customers."