Ssangyong Motors UK has added dealerships in Shrewsbury and the Wirral through new relationships with Hawkins Motors and BVH Car Sales.
Hawkins Motors' location on High Street, Wem, Shrewsbury, and BVH's site on Hind Street, Birkenhead, become the Korean brand's third and fourth new additions of 2020, following Parkhills Car Centre in Bury and Fine Cars, Gosport.
Kevin Griffin, managing director at SsangYong Motors UK, who took up his post as the brand's MD in June this year, said: "We are delighted to welcome Hawkins Motors to our ever-growing dealer network. I am confident that with Hawkins prestigious background, that we can achieve great things from the partnership and look forward to working with them."
As well as its new and used cars operations, Hawkins Motors also operates a flexi-vehicle hire business with a fleet of over 80 vehicles.
Commenting on the addition of a Ssangyong franchise in Shrewsbury to the group's portfolio, John Hancocks, dealer principal at Hawkins Motors, said: "We are excited be working with SsangYong Motors UK we're and look forward to promoting the franchise further and increasing sales in our area.
"The COVID-19 outbreak has meant a slow start however our doors are now firmly open."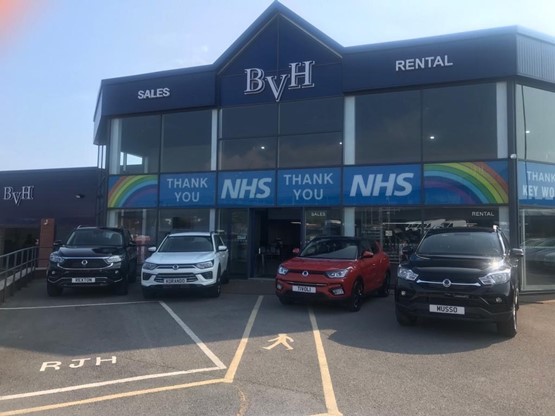 Used car retailer BVH has a reputation for providing an excellent level of customer service, according to Ssangyong, and Griffin said that he was "confident that with the excellent service levels that the dealership provides its customers, and SsangYong's value for money proposition, we can look forward to great things".
Richard Houghton, managing director at SsangYong Wirral, said: "We are excited to be working with SsangYong Motors UK and we look forward to promoting the franchise and its products throughout Merseyside.
"The coronavirus pandemic has meant a slower start that we would have liked but our doors are open, and we look forward to seeing our existing and new customers alike."
According to Society of Motor Manufacturers and Traders (SMMT) new car registrations data, Sangyong's UK sales are 28.2% down year-to-date to the end of July, with 841 vehicles having found new owners (2019: 1,171).
News of Ssangyong's latest franchised network appointment comes less than a week after Ssangyong Motor UK – operated by importer Bassadone Automotive – announced its move to a new headquarters.
Griffin said that the move came as the Korean brand embarks on the "next phase of development", including its investment in pure electric vehicles (EVs).
"We can also operate our national parts delivery service to our franchised dealers from the same site and be closer to our import centre at the Royal Portbury Docks in Bristol – which was a big consideration for us," added Griffin.
Last year was described by Ssangong Motor UK as a period of "dramatic transformation" for its retail network.
It added 10 new dealership partners in the first half of the year.
Speaking at the time, former managing director Nick Laird said: "This brand has undergone dramatic transformation over the past year with the implementation of a new growth strategy, the introduction of new, more exciting products, and, with the expected future development we have in mind, the focus on the expansion of our dealer network is of paramount importance to our customers – both existing and prospect.
"At the moment, some of our prospect customers, people who are genuinely interested in our brand and products, tell us that their nearest dealer is too far away from them, and more often than not, it is.
"Our focus on filling open points will help us and our dealers to generate more awareness for SsangYong, give buyers more confidence in the brand and sell more cars."