Car retailers' efforts to embrace the demand pent-up among new car buyers during COVID-19 lockdown has resulted in an 11.3% rise in July's new car registrations.
The Society of Motor Manufacturers and Traders (SMMT) chief executive, Mike Hawes, urged caution in celebrating the result, however, stating that a far clearer picture of the UK's new car market should emerge "by the end of September".
A total of 174,887 vehicles were delivered to customers last month, but new car registrations remain 41.9% down year-to-date, at 598,054 units.
The SMMT expects the market to end the year 30% down on 2019 following the impact of coronavirus – representing more than £20 billion of lost sales.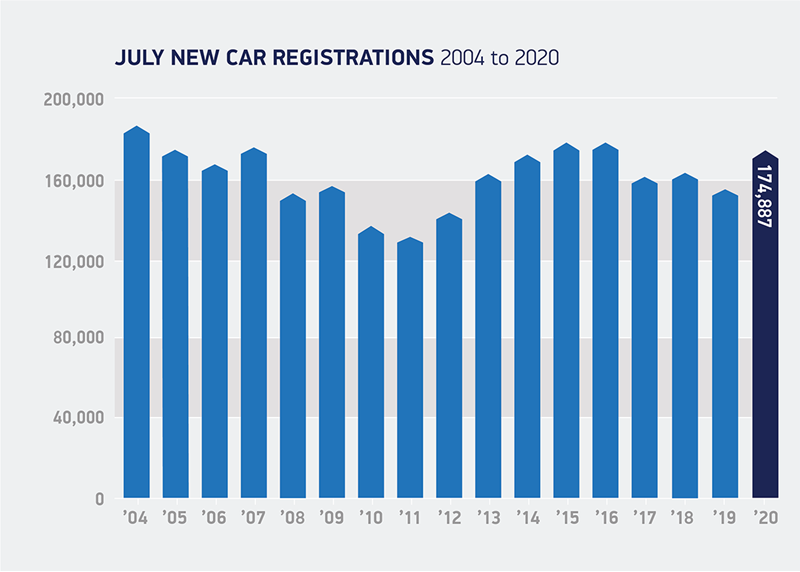 July's rallying effort came in the first full month in which of the UK's franchised car showrooms were allowed to open for business again, with only England's retailers having been able to take advantage of a full month of June sales.
Welsh car retailers re-opened their doors on June 22 and in Scotland, showrooms remained closed until June 29.
Hawes said: "July's figures are positive, with a boost from demand pent up from earlier in the year and some attractive offers meaning there are some very good deals to be had.
"We must be cautious, however, as showrooms have only just fully reopened nationwide and there is still much uncertainty about the future."
He added: "By the end of September we should have a clearer picture of whether or not this is a long-term trend.
"Although this month's figures provide hope, the market remains fragile in the face of possible future spikes and localised lockdowns as well as, sadly, probable job losses across the economy.
"The next few weeks will be crucial in showing whether or not we are on the road to recovery."
The SMMT estimates that more than 13,000 jobs have now been lost in UK Automotive's retail and manufacturing sectors as a result of the pandemic, with more likely to follow.
While Hawes suggested that a clearer of the market may emerge in September, many franchised car retailers AM has interviewed in recent weeks expressed hope that the current momentum could be maintained through to the key number plate change month of September.
Fears have been expressed about a stall in trade during Q4, however, with the withdrawal of the Government's Coronavirus Job Retention Scheme (CJRS) and the sustained effect of social distancing measures triggering rising redundancies and an accompanying decline in consumer confidence.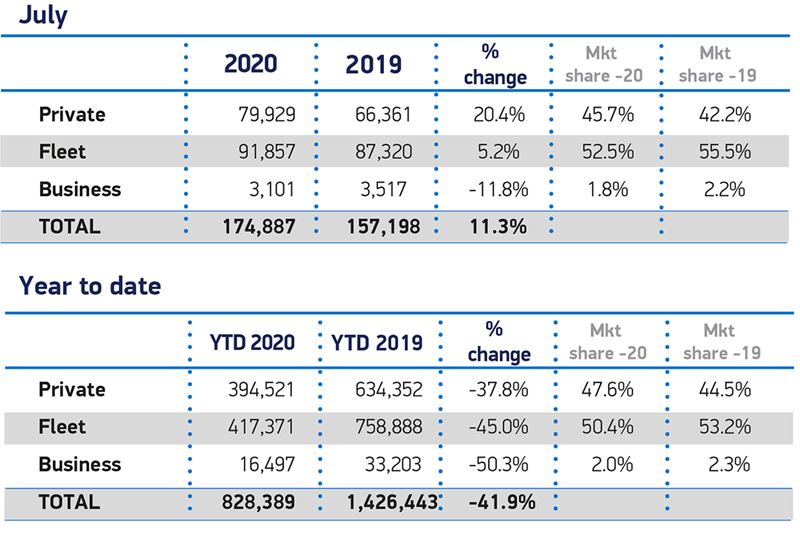 During July, private demand drove the market, with a 20.4% increase in registrations, primarily a result of consumers finally being able to renew their cars after lockdown had forced them to delay.
The SMMT said that eight-out-of-10 major manufacturers provided attractive finance offers and flexible payment terms in a bid to head off consumer uncertainty, meanwhile, helping attract customers back into showrooms.
Appetite for alternative fuel vehicles (AFVs) remained stable during the month, with plug-in hybrids (PHEV) and full electric vehicles (EVs) taking a 9% share of registrations for July, compared with 9.5% last month and up from 3.1% for 2019 overall.
Meanwhile, 'supermini' and lower medium sized (or small family) cars were once again the most popular segments, accounting for 59.1% of registrations.
Fleet purchases increased by 5.2%.
Vauxhall's new Corsa hatchback topped the list of the UK's best-selling cars once again during July after it was offered on PCP with 0% interest and no deposit, beating Ford's Fiesta and Focus, with the Volkswagen Golf in fourth place.
Here is the SMMT's list of best sellers during the month: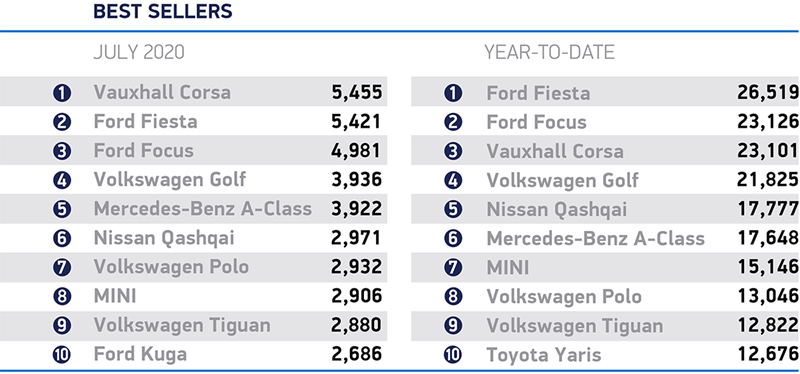 Sue Robinson, director of the National Franchised Dealers Association (NFDA), said that July's 11.3% increase in new car registrations was further demonstration of the pent-up demand generated during lockdown and reflects "the opening of dealerships throughout the UK".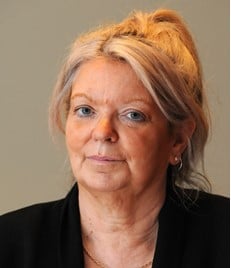 She added: "It is positive that, in addition to the encouraging trend in the used car market, new car sales have also returned to form. We must, however, continue to monitor the health of consumer demand to understand the support our sector may need over the coming months."
Robinson said that August is traditionally a quiet month, but suggested that automotive retailers could benefit from the increasing interest from consumers to buy a car as they continue to look for alternatives to avoid public transport.
Yesterday (August 4) AM reported on the 25% increase in online demand experienced by Auto Trader during July.
Commenting on today's SMMT new car registrations figures, commercial director Ian Plummer, said: "July's new car registration figures prove the resilience of the retail market with figures now at healthier levels than they were pre-COVID-19.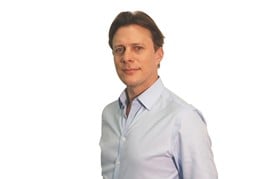 "But as we've seen recently, it's not all plain sailing; UK car production is down and there have been thousands of job losses as a result of COVID-19. This will undoubtedly make the last quarter of the year a more challenging one for retailers and manufacturers alike.
"The opportunity lies in a raft of new product launches coming to market, alongside marketing and PR activity which creates excitement among car buyers and enables brands to leverage consumer demand momentum.
"The changing nature of COVID-19 makes it impossible to predict exactly what will happen in the coming months, however all signs point to a positive outlook for September which is a crucial month in the automotive diary and will be the real bell weather for the UK car market."
Michael Woodward, UK automotive lead at Deloitte, suggested that manufacturers and dealers alike will treat July's new car registrations results with caution.
Woodward said: "Whilst consumer confidence is returning, albeit slowly, consumers remain concerned over the state of the economy and the job market. As a result, consumers may be more cautious over major purchases moving forward.
"However, significant discounting is likely over the coming months as manufacturers bring their factories back up to full capacity. This could help maintain higher level of sales, at least in the short-term."