Pentagon Motor Group and Charles Hurst Group are both moving Vauxhall dealerships as they look to maximise their use of space to accommodate the PSA Group-owned car brand.
Pentagon has completed the closure of its long-standing Sheffield facility, on Savile Street, Sheffield, and moved the Griffin-badged franchise into a new showroom which shares a building with its sprawling Kia franchise off the Sheffield Parkway dual carriageway.
Lookers' Charles Hurst division, meanwhile, has placed its Belfast Vauxhall showroom, on Boucher Road, up for sale as it searches for a new premises.
The Belfast Telegraph reported that Charles Hurst's planned sale of its 1.2-acre site and 13,000sq-ft showroom on 27 Boucher Road is not related to the PSA Group's plans to dramatically slim down Vauxhall's franchise network.
A spokesman told the newspaper that the sale would see Vauxhall relocate to another same-sized site within the retail complex, adding: "The decision to sell the site is part of a continual review of our entire estate portfolio which is designed to optimise space so that we achieve the best results for our dealerships, staff and customers."
Pentagon's new Sheffield eight-car Vauxhall showroom – which will not be fully completed until next month – has been created from workshop space in its existing Kia and Vauxhall Vans facility and all current staff have already been moved over to the space.
A new aftersales facility for both Kia and Vauxhall has been created nearby as part of the changes.

David Lewis, the managing director of Pentagon Motor Group, said: "We are very pleased to have been able to make this happen.
"It's a new development involving an investment of over half a million pounds, but what is particularly pleasing is that, apart from a much bigger showroom, it also gives customers a far easier location to access than the old city-centre site, with all our facilities in one place and ample parking on site.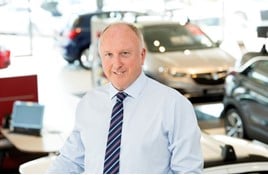 "This will also be much better for our own people in terms of accessibility and general conditions.
"We have had a clear strategy in place for some time now of focussing on a reduced number of major marques across the Group, and this is a clear indication of our willingness and ability to make that happen."
Alongside the new Vauxhall facility, Pentagon Group operations on-site encompass the Kia showroom, service and parts departments, a Van Business Centre, and insurance-rated body shops.
Pentagon has operated the Sheffield Kia franchise since taking over from Lookers in June 2017.
Rob Schofield, Pentagon Group's brand director for Vauxhall and Kia, said: "While the Vauxhall showroom will not be fully completed until late August, customers are already using our new Vauxhall service and parts facilities on the Parkway Avenue site, and we have a comprehensive range of new and used Vauxhall cars on external display for customers to browse."
Pentagon Motor Group now operates some 49 franchise outlets for major brands, from 26 sites across the East Midlands and North.
Pentagon severed its ties with the FCA Group with the closure of its dual-brand Alfa Romeo and Jeep dealership in Doncaster last month.
The closures follow a period of network growth for the AM100 operator.
In January last year it acquired three TrustFord dealerships (Warrington, St Helens and Runcorn) before acquiring Loughborough's Archie Moss Vauxhall dealership in August.
November brought the acquisition of Sytner's Seat dealership in Huddersfield, before the group completed the addition of Peugeot to its Barnsley (in its former Fiat showroom) and Lincoln (formerly Citroen) sites in February this year.