The Steven Eagell Group has opened a new Lexus used car showroom and aftersales facility in Kings Lynn with the relocation of its Toyota franchise in the Norfolk market town.
The Milton Keynes-based AM100 car retail group has moved its existing King's Lynn Toyota dealership to a brand new, purpose-built facility in Campbells Meadow, King's Lynn, which is now trying to recruit four new members of staff locally.
Steven Eagell's new site also houses a new Lexus Service and used car operation, a new proposition for the group in the town.
In all, the new dealership features a 10-car showroom, a 10 bay workshop, display for over 80 used cars, a standalone valeting and vehicle preparation facility and ample customer parking spaces.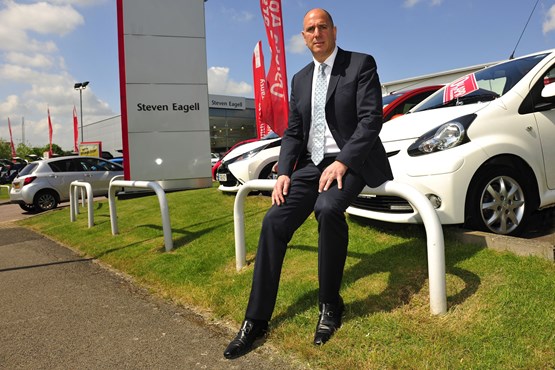 Steven Eagell Group chief executive, Steven Eagell, said: "We are delighted to open this new facility, which enables us to better showcase our fantastic range of hybrid products and improve our ability to deliver an outstanding customer experience.
"We are also extremely excited to bring the Lexus brand to King's Lynn and look forward to welcoming our existing and future customers."
AM featured the Steven Eagell Group on a car retailer face-fo-face insight feature back in 2016.
Since then, the group has continued on a growth trajectory, completing the acusition of Lookers' Hatfield Lexus and eight Toyota dealerships from Jardine Motors Group in a deal which also included a brace of Lexus sites, within six months of that interview.
The Steven Eagell Group has continued to grow during 2020, following the acquisition of six dealerships from Vantage Motor Group (Toyota and Lexus, in Birmingham; Toyota Solihull; Toyota Tamworth; and Toyota and Lexus, in Wolverhampton), which was exclusively reported by AM back in early March.
The group now operates a total of 22 Toyota and eight Lexus businesses.
Vantage Motor Group's disposal of the four Toyota and two Lexus franchised sites to Steven Eagell was the latest in a series carried out by Vantage following the group's acquisition from founder Mark Robinson in a management buy-out (MBO) in December.
In an interim trading update published via the London Stock Exchange on March 3, Vertu Motors announced that it had completed the £4m acquisition of its Kia and Honda businesses in Bradford.