Hendy Group is considering an appeal after councillors rejected plans for a £25 million 'Motor Village' multi-brand car retail site near Tunbridge Wells.
The AM100 retailer had vowed to create 50 new jobs and retain 130 others through the development of a location adjacent to a Tesco supermarket, in Cornford Road, Pembury, while freeing up space at another site for affordable housing.
But councillors from Tunbridge Wells Council rejected the scheme at a meeting of its planning committee last Wednesday (October 28).
Speaking to the Kent Messenger newspaper following the decision, Hendy Group managing director, Paul Hendy, said: "We are disappointed that the planning committee has failed to listen to the recommendation of its planning officers and rejected our proposals to invest £25m in the borough and play our part in sustaining the local economy.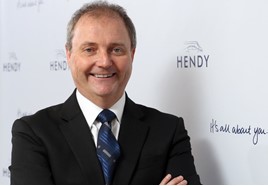 "At a time when unemployment in the borough has risen by 975 to 3,310 people in the last year and the country faces economic uncertainty it is frankly disappointing to see the councillors reject the creation of 50 new jobs in the town, and strengthen the 130-strong Hendy team.
"We are absolutely committed to preserving the employment of all of our colleagues in the borough and will continue to fight for their futures. We will now consider our options and should we decide to appeal we are confident that we would win."
According to planning documents, Hendy Group's motor village plans would have brought together its existing dealerships across West Kent at the one location, freeing up its existing Mount Ephraim site for housing.
The group submitted its planning application for the project in April 2019, but Tunbridge Wells Council received more than 800 objections from residents expressing concerns about traffic congestion in the area.
Despite planning officers' "extensive and robust analysis of the road network" and no objections from Kent County Council Highways or Highways England, the objections were taken into account by planning committee members.
A motion calling for rejection of the plan was passed with eight votes for, two against, and one abstention.
Hendy Group has been on a growth path propelled by new rertail site developments in recent years.
In May last it opened a new 200-car Hendy Car Store used car supermarket on Ringwood Road, at St Leonards, Ferndown, in Dorset.
That followed February 2019's completion of its £9m Honda, Kia and Mazda showroom development located at Leigh Road, Eastleigh.
This year has seen continued portfolio growth.
Last month AM reported on Hendy's addition of the Moke brand to its Poole sports car showroom, coming on the back of June's announcement that it was preparing to consolidate its commercial vehicle operations in West Sussex amid changes which would introduce a new Ford Transit Centre and an MG Motors dealership.
In March Hendy expanded its presence in Dorset with the opening of a new Toyota franchised site in Christchurch.