Henrys Cars Glasgow has won Skoda UK's Retailer of the Year award as the Volkswagen Group brand celebrated the successes of its franchised dealer network across 10 categories.
The annual event, held virtually due to the current COVID-19 'Lockdown 3' regulations, saw the operation located on Kyle Street, Glasgow, emerge as the overall winner as West End Garage Edinburgh finished second with Simpsons Skoda Great Yarmouth in third.
Skoda's awards follow similar COVID-safe digital events hosted by by BMW, Mini, Kia, Jaguar Land Rover (JLR), Suzuki, Isuzu and Volvo in recent weeks.
For the first time in the awards' history, however, all 128 retailers took home a prize as every franchise point was named a winner in the People Excellence category thanks to their innovation and quick adaptation to COVID-19 operating.
John French, head of sales operations at Skoda UK, said: "The last year has been tough to say the least, and I want to extend my thanks and applaud all our retailers for their ongoing commitment and resilience throughout the past 12 months.
"Despite challenges for the business and the automotive industry as a whole, Skoda UK achieved a record market share in 2020, which is testament to the strength of our retail partners."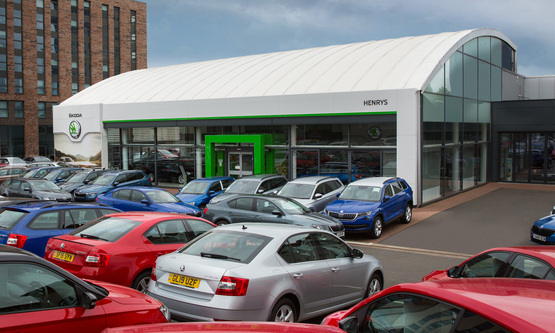 In a statement issued this afternoon (February 18) Skoda UK said that Henrys (Glasgow North) - also a franchisee with Honda, Suzuki and Ssangyong - had successfully "upped its game from its category award win last year".
The Retailer of the Year award is based on outstanding performance throughout the year, taking into account various elements including sales, aftersales and customer satisfaction, it said.
The full list of category winners was as follows:
Customer Experience: Fred Rees Garages Ltd.(South Wales)
People Excellence: All 128 Skoda retailers
Digital Experience: Meadens Skoda (New Forest)
Service & Parts: Simpsons Skoda (Great Yarmouth)
Sales: West End Garage (Edinburgh)
Most Improved Retailer: Marshall Skoda (Northampton)
Used Vehicle Sales: Marshall Skoda (Leicester)
Finance: Murray Skoda (Plymouth)
Fleet Sales: Pulman Skoda (Durham)