Inchcape UK chief executive James Brearley has revealed the AM100 PLC's plan to open up to 20 used car retail locations, each with an adjoining fast-fit aftersales offering, by the end of next year.
Speaking exclusively to AM about the new project, he said that the business had already "quietly" established six businesses, with sites in Cheltenham, Derby and Shrewsbury joining previously established locations in Burton-on-Trent, Bolton and York so far this year.
Brearley said that Vertu Motors had since acquired the York facility as part of the purchase of Inchcape's Cooper BMW division in December but said there is more to come from the project, which has yet to be formally branded.
"We started opening our dedicated used car centres over the last 18 months," he said.
"Looking at the two established sites (excluding York) they are making 6% return on sales and we are very comfortable with that.
"We've opened three more sites this year, another two will open in Q2 and next year we'll have 17 to 20 primarily around the areas that we dominate in the North West, East and West Midlands."
View Inchcape's new Derby used car centre in a short video presented by head of business, Gary Brown, here:
The plan to grow its used car operations mirrors a trend among franchised car retailers across the sector.
While Pendragon's new strategy centred on a restructured and rebranded Car Store operation, Peter Vardy's transformation of its former Vauxhall franchised sites into Carz-branded sites and JCT600's recent launch of its own standalone used car retail locations are all examples of the shift.
Inchcape's used car retail sites are being established in industrial units – Brearley stating that former franchised locations offer a costly and poorly-configured foundation by comparison – and will accommodate around six workshop ramps to deliver a fast-fit service offering.
Brearley said that used car preparation would be carried out on-site, with a minimum of 180 vehicles in-stock for customers to view.
He said that the group's business model is based around each site retailing 100 cars per month "from a low cost base".
Unlike online retail disruptors Cazoo, cinch, and Carzam, Brearley said that the new sites would be located in and around Inchcape's existing franchised dealerships in a bid to "dominate locally", rather than offer nationwide coverage via an online retail model.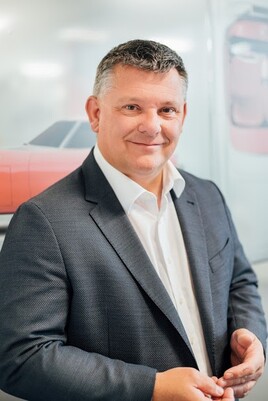 Brearley said: "We studied Cazoo, Carmax and Carvana. I think Cazoo is interesting as a model of how not to do it.
"We have an omnichannel platform but we understand low cost facilities, low cost preparation to a high standard and the distribution costs. On top of that we already offer a 14-day money back guarantee anyway.
"We definitely can deliver to someone's house, at a cost, but we believe that there's no demand from consumers for that whatsoever. We absolutely believe that people want to test drive cars and have seen that in the spike of activity that's been seen since the lockdown was lifted."
Brearley said that it currently has a used car stock of 6,500 vehicles – benefitting from the 40% of dealership car purchases that generate a part-exchange – adding that it achieves a "marketing cost of £52-per-unit, versus Cazoo's £2900 per unit".
"Even in year-five of its plan Cazoo will still spend £500 per unit", he added.
Despite the current shortage of used cars entering the market, Brearley said that Inchcape has been able to maintain its stock volumes, despite "paying the price" for some additional units.
He said: "Part of that has been through a reduction in the number of cars we take to auction.
"When I joined Inchcape there was a tendency to remarket something that was over five years old or 50,000 miles, now it's more like 10 years and 80,000 miles, depending on the car."
Last week a trading update from Inchcape reported that its UK car dealership operation had shown "relative resilience" in a COVID-impacted 'Lockdown 3' as its distribution business offset revenue losses from retail.
The report came after the PLC confirmed in its 2020 annual financial results statement that its London Stock Exchange listing had been reclassified to remove reference to retail as it disposed of 13 UK dealership locations as part of a renewed focus on distribution in 2020.
In annual financial results published on February 25, the group reported revenues down 25%, from £9.38 billion to £6.34bn, in a COVID-19 impacted year, as pre-tax profits slumped 131.8% to a statutory loss of £128m (2019: £402m profit).