Kia Motors UK retailers Ken Jervis, Gravells and Drayton Motors have scored a hat-trick of Institute of Customer Service (ICS) accreditation – each achieving a 'ServiceMark with Distinction'.
The accolade is highest level of accreditation awarded by the ICS and is currently held by just 14 organisations in the UK.
Stoke-based Ken Jarvis, Gravells of Kidwelly and Drayton Motors Boston are the first car retailers to secure the accreditation following a qualification process which involved a series of surveys and interviews with staff and customers.
The ICS accreditations follow Kia earning the Feefo 'Gold Trusted Service' award for its dealer network in January.
Paul Philpott, the president and chief executive of Kia Motors UK, said: "This is a truly remarkable achievement; congratulations to all the staff at the three dealerships.
"This is further proof that the Kia dealer network works hard to consistently put customers first.
"We believe this is integral to Kia's success, while giving customers confidence that Kia dealerships put service at the heart of their business."
Drayton Motors was the subject of an AM dealer profile feature at the start of COVID-19 lockdown last year, with MD Darren Bradford revealing how his business was 'cultivating success' with a rural Kia franchise.
The group recently expanded into a third Kia site with the acquisition of Victor Wood Group, in Grantham.
Gravells managing director, Jonathan Gravell, joined the panel for this week's AM Regional Heroes webinar, meanwhile, which can be viewed by clicking here.
His business has also expanded with Kia recently, expanding into England with a sixth Kia Motors UK dealership in Hereford.
Each of the three Kia franchised dealerships scored significantly higher than the 85% is staff and customer reviews to qualify for the 'ServiceMark with Distinction'.
The process involves a rigorous three-stage accreditation process that includes assessing staff engagement with the customer service strategy, customer satisfaction feedback and an independent onsite assessment of the business.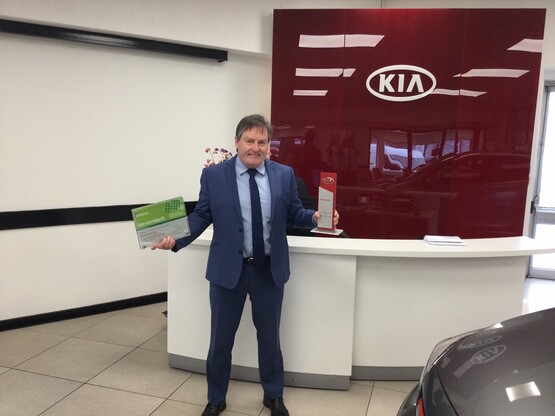 ICS chief executive, Jo Causon, said: "By undertaking ServiceMark accreditation for its dealerships, Kia has shown its commitment to identifying areas of strength on which to build and service aspects that it can improve.
"'ServiceMark with Distinction' is the highest level of accreditation we award.
"It requires organisations to demonstrate they excel in the service they provide their customers and have an embedded service-focused culture.
"For three of those dealerships to have achieved ServiceMark at distinction level – including Ken Jervis Kia (Stoke-on-Trent), Gravells Kia (Kidwelly) and Drayton Motors Kia (Boston) – demonstrates the consistency of approach and dedication to serving their customers and empowering their representatives, while continuously improving their service offering."
Yesterday's Society of Motor Manufacturers and Traders (SMMT) car registrations data for April showed that Kia registered 7,529 cars last month.
The performance sees the Korean car maker's year-to-date performance up 24.24% with 27,894 registrations.