The Society of Motor Manufacturers and Traders (SMMT) has said that April's 13.9% rise in new car registrations show that there is "light at the end of the tunnel" after COVID-19.
Car retailers across the UK were able to drive the UK automotive sector to 141,483 registrations last month, following the April 12 reopening of showrooms in England and later return of physical trading in Scotland, Wales and Northern Ireland.
And while the result leaves the sector's 567,108 registrations year-to-date remain some 32.5% down on the average recorded over the past decade, the positive result prompted the industry body to upgrade its forecasts for 2021 as a whole.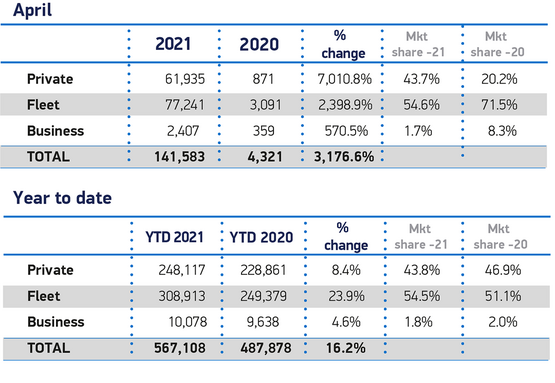 SMMT predictions – downgraded to 1.83m in February – have been upgraded to 1.86m registrations by end of the year, up 13.9% on 2020.
The annual result would still be some 20.2% down on the average of 2.33 million registrations a year recorded between 2010 and 2019.
Mike Hawes, the chief executive of the SMMT said: "After one of the darkest years in automotive history, there is light at the end of the tunnel.
"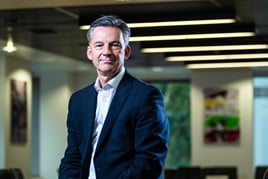 A full recovery for the sector is still some way off, but with showrooms open and consumers able to test drive the latest, cleanest models, the industry can begin to rebuild.
"Market confidence is improving, and we now expect to finish the year in a slightly better position than anticipated in February, largely thanks to the more upbeat business and consumer confidence created by the successful vaccine rollout.
"That confidence should also translate into another record year for electric vehicles (EV), which will likely account for more than one in seven new car registrations."
April saw retail demand rise from just 871 registrations last year to 61,935 as click and collect retail supported the market for the first part of the month.
Total plug-in vehicle market share broadly followed the trend seen in recent months, accounting for just over one-in eight-vehicles, or 13.2%.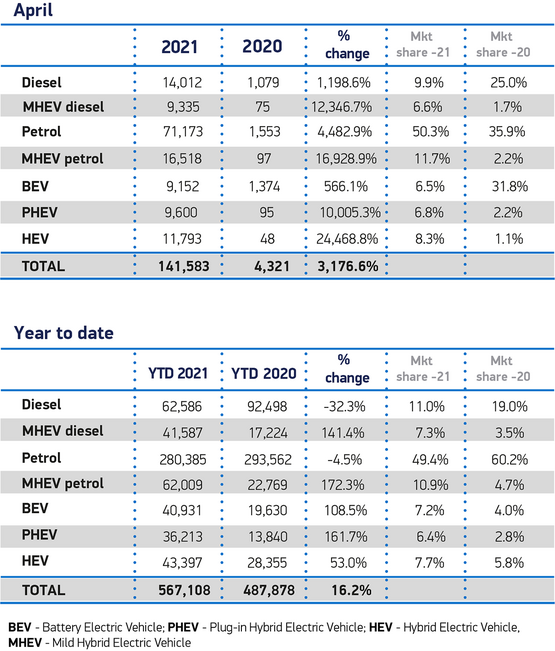 The SMMT reported that plug-in hybrids (PHEVs) were more popular than EVs, at 6.8% and 6.5% of the market, in the first month of sales since the Government's decision to cut the value of its Plug-in Car Grant (PiCG).
EVs are now expected to account for 8.9% of registrations in 2021 – down from the 9.3% initially forecast in January, as a result of the changes.
PHEVs are anticipated to take a 6.3% market share, meaning that plug-in vehicles should comprise 15.2% of all cars registered this year.
Commenting on today's April registrations figures, National Franchised Dealers Association (NFDA) chief executive, Sue Robinson, said it was "extremely encouraging" to see sales of new cars bounce back in April.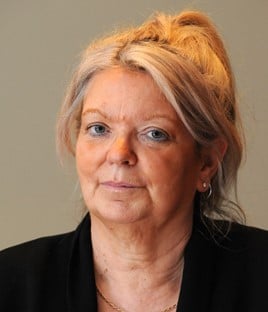 She added: "April's results are positive considering dealerships have been open for less than three weeks, with sales previously supported by click and collect; since reopening, customer footfall and volume of enquiries at dealerships have been strong and driving schools are seeing a major increase in young people booking driving lessons and tests.
"All of this leads us to believe that there is a very upbeat outlook ahead for the motor industry in the summer."
Michael Woodward, UK automotive lead at Deloitte, said: "There is still hope that the sector could be set for a sustained period of recovery.
"Next month's results will be more indicative of true consumer demand and will allow us to better assess the potential speed of the recovery.
But Woodward added: "The ongoing global shortage of semi-conductors means that, even as sales start to return, there is little respite for the sector."