Devonshire Motors has appointed Mitsubishi Motors in the UK's Paul Alexander as its new aftersales operations manager as the car retailer embarks on a "major transitional period".
Alexander, who worked for the manufacturer for 25 years in roles ranging from product quality investigator to aftersales field operations manager, joins the Devon-based AM Awards-winning retailer's team in June.
Following the announcement that Mitsubishi will no longer be selling new cars in the UK after September this year, Devonshire Motors revealed its first move in what owner, Nathan Tomlinson, described as a "major transitional period for the business".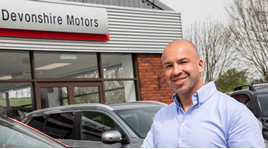 Tomlinson, part of the panel for this week's 'General Managers Guide to Improving Service Retention' webinar, said Isuzu had now been added to the existing aftersales franchises, alongside existing brands Mitsubishi and Honda.
"Aftersales is absolutely critical to a solid business model, today but especially in the future," said Tomlinson.
"Having recently entered into a partnership with Isuzu we now have three brand partners in aftersales, and expect to be announcing a fourth very significant addition over the coming weeks too."
Speaking in this week's AM webinar – which also included insight from Group 1 Automotive divisional aftersales manager Richard Staunton, Luscombe Motors MD Robin Luscombe and Tjekvik business development director Nick Pratt – Tomlinson was keen to point out the need for more senior interest and structure in aftersales.
AM's 'General Managers Guide to Improving Service Retention' webinar is now available to view on demand.
He said: "Making the most of the huge opportunity that aftersales has to offer is forensic business, not only in terms of providing the highest level of aftercare to customers but in order to create long-term trust based relationships to support vehicle sales activity.
"As a business we are acutely aware of the financial benefits from an effectively run service and parts operation, that's no easy task in what is a very fast-paced environment.
"Having the right structure, experience and culture is essential to prevent leakage and maximise opportunity – even more so when you consider multi-brand requirements."
Tomlinson added: "To have someone of Pauls experience and calibre joining us is very exciting, and a huge testament to our existing team and the fantastic work they do too.
"To be able to bring 25 years of manufacturer experience into our business at a time of growth and change has immense value."
Last week AM reported that Subaru and Isuzu importer International Motor Group (IM) is in advanced talks with the Colt Car Company (CCC) to take on the Mitsubishi Motors in the UK aftersales franchise this autumn.
A letter to retailers from CCC said the expected acquisition by IM "does not change our route forward", adding that the transaction would not complete until the aftersales shift is concluded in October.