Cazoo's financial results for the first half of 2021 have revealed that the £5 billion-valued online car retailer delivered a £69m adjusted EBITDA loss in the period.
Its results for a period which saw used cars appreciating in price at an unprecedented rate due to supply shortages showed that, although its revenues increased 521% to £248m as gross margin rose 9ppts, it failed to achieve profitability in the period to June 30.
The news follows Cazoo's reports of an £8m gross profit in UK during Q2 – reported ahead of its expansion into France and Germany – which had prompted many car retailers to question the online operator's ability to break even amid high marketing costs and business acquisitions.
Despite its adjusted EBITDA loss, Cazoo grew its vehicle sales by 401%, to 20,454 in H1, as its retail gross profit per unit reached £315 – up £670 on the loss delivered in the same period a year earlier.
In light of those results Alex Chesterman OBE, the founder and chief executive of Cazoo, hailed "record results" in H1 for the business which floated on the New York Stock Exchange on August 27.
And with growth in Europe on the cards, the business' momentum looks set to continue.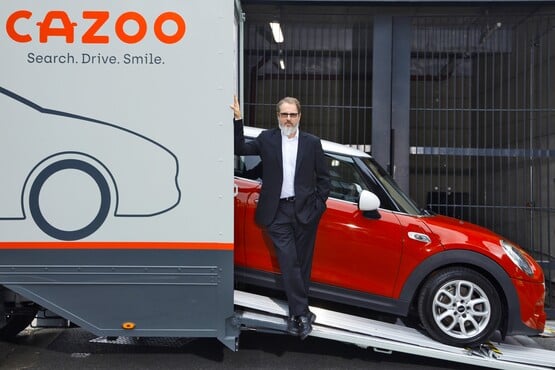 Chesterman added: "Consumers continue to embrace the selection, transparency and convenience of buying cars entirely online.
"We expect operational efficiencies to continue to drive further gross margin improvement and we remain on track to achieve revenue approaching $1 billion in 2021."
Earlier this month Cazoo completed its process of bringing its vehicle preparation in-house with the £70m acquisition of SMH Fleet Solutions, following its Q1 acquisition of Smart Fleet Solutions.
It also acquired used cars valuations provider Cazana for £25m.
Chesterman conceded that the biggest constraint his business now faces is "being able to recondition vehicles in the volumes required to meet consumer demand".
He asid that SFS acquisition would allow Cazoo to "de-risk" its future growth, however, by doubling its capacity and significantly enhancing its team of vehicle preparation and logistics staff, giving it "the ability to meet our growth aspirations over the next two years."
He added: "Since the end of the period we completed our listing on the NYSE, raising proceeds of approximately $836 million, net of fees to further accelerate our growth.
"In July, we launched our 'car buying' service, now offering consumers a better digital experience when selling their car as well as buying a car.
"We expect this to change our buying mix significantly over time, helping to further improve future margins.
"This month we also acquired Cazana, a leading automotive data insights platform, enhancing our data team and capabilities which will enable us to further optimise our purchasing and pricing of vehicles across the UK and Europe."
Adjusted EBITDA is defined as loss for the period adjusted for tax credits, finance income/expense, depreciation and amortization, share based payment expense and exceptional costs.
Cazoo advised in its reporting of the result that the figure should be considered for supplemental informational purposes only, claiming that the measure has limitations as an analytical tool and should not be considered in isolation from IFRS figures such as net loss (H1 2021: -£102m).
Other companies in Cazoo's industry may calculate Adjusted EBITDA differently, it said.