Cazoo has reported an £8 million gross profit in Q2 after its online used car retail volumes surged by 429% a year on from the first COVID-19 lockdown period.
The car retail start-up – set to float on the New York Stock Exchange after achieving a £5bn valuation earlier this year – delivered 10,692 vehicles in the three-month period to June 31 to turn around a £1m loss for the same period in 2020.
Revenues rose 605% to £141m, meanwhile, as the business prepared to expand into France and Germany.
Its unaudited results also showed that the business had turned around a £429 loss per vehicle sold in Q2 2020 – and £149 gross ppu in Q1 – into a £460 profit through what it described as an "improved buying mix, stock turn and higher ancillary revenues".
And, after taking control of its own refurbishment and logistics operations in the UK, establishing an 18-site physical network of used car handover sites and acquiring subscription businesses Drover and Cluno, Cazoo has conitnued to make changes to its retail model.
The business began buying used cars from private sellers last month and also introduced of a charge to customers for vehicle deliveries.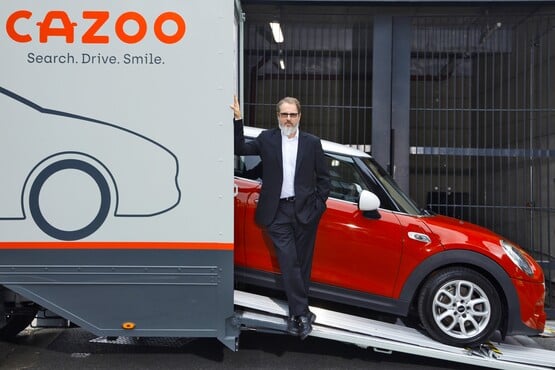 Founder and chief executive, Alex Chesterman, said: "We remain on track to achieve revenues approaching $1bn (around £720m) in 2021 and expect operational efficiencies to continue to drive further gross margin improvements.
"During the quarter, we brought our vehicle refurbishment in-house and now have five vehicle preparation centres in operation across the UK, giving us a significant infrastructure advantage and complete control of our extensive UK-wide reconditioning and logistics operations.
"We also launched our new car subscription service, now offering consumers both new and used cars with the option to purchase, finance or subscribe, all entirely online.
"We continue to be very excited about our launch into mainland Europe later this year and have started buying and reconditioning cars and started to significantly build out our teams on the ground in both France and Germany and will accelerate our investment and rollout plans if we believe it is right to do so."
Chesterman confirmed that Cazoo had begun buying cars directly from consumers outside of part-exchanges since the end of Q2.
He said that this development, and the decision to start charging customers for home delivery had delivered results which had "exceeded our expectations".
Chesterman added: "We now have over 2,250 customer-obsessed staff, fully focused on delivering the best and most comprehensive car buying experience to consumers across the UK and Europe.
"Our strong performance is a result of the hard work and dedication of everyone at Cazoo, and I would like to thank the entire team for this superb performance despite the COVID restrictions experienced during this period."
Dan Och, the founder of AJAX, which is set to merge with Cazoo later this month, ahead of its Q3 stock market floatation, said: "We are delighted with Cazoo's record performance over the past two quarters.
"The team have had another great quarter and this once again confirms the significant opportunity that lies ahead for the business as they continue to grow at pace and drive to increase digital share in the $700 billion European market, which we believe will create compelling shareholder value."