Cazoo chief executive Alex Chesterman OBE will ring the opening bell at the New York Stock Exchange this afternoon as the used car e-commerce firm is publicly listed.
At 2.30pm UK time (9.30am in New York) Cazoo begins its listing, with a valuation of up to $8 billion (£5.8bn), barely three years since serial tech entrepreneur Chesterman founded the business.
If the valuation is achieved, Cazoo (NYSE:CZOO) will instantly become the highest valued UK company trading in the USA.
The scale of its valuation has been a source of discussion for the UK's motor trade.
Hargreaves Lansdown analyst Nicholas Hyett told City AM that people are divided as to how to define what kind of firm Cazoo is - to some it is an online platform business capitalising on interest in tech stocks; to others it's an over-valued online retailer, having to invest heavily in stock to sell at relatively skinny margins.
Chesterman's track record, in building and selling LoveFilm and Zoopla, also appeals to tech investors.
Hyett told City AM: "Online platform businesses are very valuable. Once one achieves scale, as Cazoo is rapidly doing, everything is effectively profit", Hyett explains.
"The problem in applying that logic to Cazoo is that it is not just a platform business, it is also a used car business and that is a very capital intensive type of business. Even if they are very efficient at what they do, they still have to buy used cars at some point."
In Q2 2021 Cazoo sold 10,692 vehicles, generating revenues of £141 million and £460 retail gross profit per unit, 5% gross margin.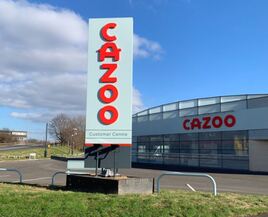 "We now have over 2,250 customer-obsessed staff, fully focused on delivering the best and most comprehensive car buying experience to consumers across the UK and Europe.
"Our strong performance is a result of the hard work and dedication of everyone at Cazoo, and I would like to thank the entire team for this superb performance despite the COVID restrictions experienced during this period," said Chesterman at the time of the Q2 results announcement.
Cazoo, which took stock preparation in house after initially outsourcing to BCA, is preparing to launch used car e-commerce in Germany and France before the end of 2021.
It will get proceeds exceeding $1 billion from the listing, which will be invested into the business.
Cazoo will continue to be led by founder & Chief Executive Officer, Alex Chesterman, along with the existing senior management team including Chief Financial Officer, Stephen Morana. Daniel Och, renowned US investor and Founder of AJAX, and Anne Wojcicki, founder of 23andMe, will also join the Cazoo Group board of directors along with Duncan Tatton-Brown (Audit Chair), Moni Mannings (Remuneration Chair), Luciana Berger (ESG Chair), Lord Rothermere (Non-Exec) and David Hobbs (Non-Exec) of D1 Capital Partners.
Alex Chesterman OBE, Founder & CEO of Cazoo, commented, "Today is an important and exciting day for Cazoo as we enter the public markets. Since we announced the transaction earlier this year, we have continued to see record growth in our revenues and gross profit, have brought our UK vehicle reconditioning in-house, providing full control of our operations and logistics and have started buying and reconditioning cars in mainland Europe ahead of our launch later this year. And we have launched a fully integrated all-inclusive monthly car subscription service in the UK as well as our car buying service to source inventory directly from consumers.
"We remain obsessed with delivering the best car buying and selling experience for consumers across the UK and mainland Europe and the capital raised from this transaction will give us the resources to further accelerate our growth. Our world-class team has been further strengthened by our combination with AJAX and we could not be more pleased to partner with Dan and his team. The opportunities ahead of us are enormous and I am very excited about our next chapter and expect this combination to further drive our tremendous growth."