Waylands Automotive chief executive John O'Hanlon has spoke to AM about returning to the motor retail industry and his ability to pick winners in the franchises he represents and the people he employs.
Waylands' founder O'Hanlon joined AM editor Tim Rose and news and features editor Tom Sharpe for the latest instalment of the monthly production, the AM News Show Podcast, which is published across Youtube, Spotify and Apple Podcasts.
O'Hanlon shared his views on his return to the industry following the sale of AM100 dealer group, Ridgeway, alonside business growth and investment and using his experience to take on challenges.
"It was the right time for my chairman to sell at Ridgeway, but it wasn't the right time for me," said O'Hanlon.
"I still had lots of work to do, I was 48, I had a great level of contacts and I wanted to do more – so that was a driving force about coming back.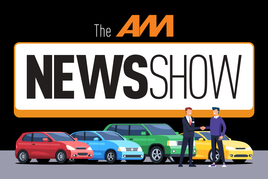 "A lot of people said, 'you're used to running a big business'. We started Ridgeway - the first year was 30 million, two sites - and it didn't frighten me. You have to get your hands dirty in that size and scale of business. But I enjoyed it and I enjoy where we are now."
He also discussed his recent win at the 2021 AM Awards – which marked the second time Waylands has won the AM Awards 2021's Best Dealer Group (up to 10 sites) award since its formation at the end of 2017.
O'Hanlon said: "It's always been important that we grow the business as the business can sustain it and that's been our mantra in previous businesses, but also within Waylands
"We set up the business, we get it right and we grow the business – we did that originally around Vovlo – which is still the beating heart of Waylands, but in the last 12 months we have grown the business with three separate opportunities."
O'Hanlon also shared insight into adding Kia and the MG new car franchises to the business.
Video: watch the podcast
In the first part of the podcast, created in partnership with Armchair Marketing, O'Hanlon and IMDA chairman and Specialist Cars owner Umesh Samani, spoke about how AM Live is a vital source of insight and advice for car retailers.
In part two of the podcast, Samani chatted about used car marketing "on the road" and unwinding with a V8-powered hobby "off road".