Waylands Automotive has officially added the MG Motor UK franchise to its franchised dealership portfolio with the opening of a new showroom in Oxford.
The AM Awards 2021's Best Dealer Group (up to 10 sites) has added the UK's fastest-growing car brand to an operation which already includes five Volvo Car UK dealerships and Kia Motor UK's Reading franchise.
Oxford-based Waylands' new MG Oxford dealership is situated on the city's Cumnor Hill.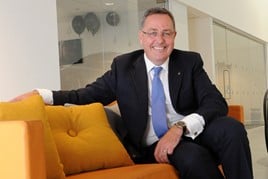 Group chief executive, John O'Hanlon, said: "We are delighted to be joining the MG network at this exciting time.
"MG is a brand that will be evocative for many car buyers in our area. MG started and continued production in Oxfordshire for many years.
"Its strategy of creating a full range of cars including EVs, at market leading price points is incredibly attractive, accompanied with a full seven-year warranty."
MG said in a statement issued today (October 1) that Oxford will be "a fantastic market" for the brand as it is one of the leading cities in the country in the adoption of EV's through its Zero Emission Zone – one of the first in the UK.
The OEM, which has now added more than 35 new retail partners in 2021 as it targets a network of 140 by the end of the year, currently offers three plug-in cars – the MG ZS EV, the MG5 EV and MG HS plug-in hybrid (PHEV).
MG revealed today that it is targeting increased fleet sales following the promotion of national fleet sales manager Geraint Isaac to the newly-created role of head of fleet.
MG has generated a 65.6% rise in registrations (to 17,499) to the end of August and a four-fold rise in fleet sales since 2019.
Earlier this month AM reported that the brand had achieved a new sales record of 20,000 units year to date - halfway through September - beating its full-year 2020 volumes by more than 1,500 units.
Commenting on the expansion of the MG network with Waylands, the OEM's commercial director, Guy Pigounakis, said: "We are delighted to join with Waylands as our partner for Oxford and can see how the city represents a great opportunity for a brand like MG and its EV for everyone mindset.
"This is a highly strategic appointment to our network, and we look forward to working with Waylands as we continue to expand out EV leadership."