Eden Motor Group chief executive Graeme Potts said that one of the business' used car customers was "bowled over" when they became the surprise recipient of a £10,000 cash giveaway.
Dorset-based Gerald Swallow was handed the unexpected prize when he went to collect the three-year old Vauxhall Astra which he had bought during a VIP sales event run by the AM100 car retail group
General Manager, Robin Fielder and Sales Executive, Mike Stone, handed over the prize, which is just part of a £30,000 prize fund that has been presented to customers in competitions and promotions this year.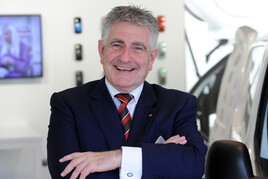 Potts said: "We take a great amount of pleasure in thanking and rewarding our customers for their business and are thrilled to have been able to present Mr and Mrs Swallow with their £10,000 prize, which they were absolutely bowled over by.
"We do this every year as way of not only engaging with our customers during our VIP weekends, but also out of a desire to give something back to the communities that support our business."
Mr and Mrs Swallow told Eden Group that they are keen travellers and plan to spend their prize money on a cruise – something they haven't been able to do recently due to COVID-19 restrictions.
Eden currently has 31 sites in the UK covering the West and South of England, from Warwickshire through to Devon and last year grew its portfolio with the acquisition of Torbay Hyundai, a move which took its representation with the Korean carmaker to four sites.
The group also gave Mazda UK its first presence in Reading for over a decade in 2021 after creating a dual-brand showroom in its existing Hyundai Motor UK dealership.
It represents seven car brands: Vauxhall, Hyundai, Mazda, Peugeot, MG, Fiat and Suzuki as well as it's Approved used network and Prestige car showroom in Fleet.
Potts appeared as part of a panel of franchised car retail aftersales experts as part of the AM General Managers Guide to Improving Workshop Efficiency webinar, which can be viewed – along with the rest of the 'General Managers Guide to…' webinar series – by clicking here.
Eden is currently recruiting in support of its recent growth and addition of new dealerships, introducing further perks for joining the Eden Family, such as Perk Box, which is in addition to birthdays off, turkeys at Christmas and Easter eggs at Easter, all paid for by senior management.
All Eden sites are also closed on Sundays, as the company places great value on it being a day of rest.