Eden Motor Group has completed the acquisition and re-branding of Torbay Hyundai, taking its representation with the Korean carmaker to four sites.
Reading-based Eden completed the acquisition on March 1 and opened for business in time for the start of the key 20-plate change over this week.
Located on Barton Hill Road, in central Torquay, the dealership had been run as a solus operation by the same business partners for the past nine years, but AM understands they had decided to leave the business for "lifestyle reasons".
Eden managing director, Graeme Potts, said that the business was a good geographic fit for the group which now operates 24 retail and service centres across the breadth of the country with brand partners Fiat, Hyundai, Mazda, MG, Peugeot and Suzuki.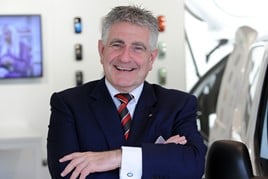 Potts said: "We wouldn't have bought the business if we didn't think we could create value and we would hope that our scale means that we can become a very efficient operator.
"It's a good fit with a brand that we now have quite a big representation with, along with a comfortable relationship."
Eden, which was the subject of a dealer face-to-face profile in AM Magazine last year, expanded with its acquisition of a Hyundai franchise in Reading from West London Motor Group back in 2015.
More recently it has expanded with the brand with new dealerships in Wycombe and Wokingham.
Keen to stick to a "market area" business model, Potts has said that the group's expansion ensures that new acquisitions are "justifiable in their proximity to other Eden dealerships".
Hyundai Torbay is just two miles from its flagship Vauxhall showroom on Orchard Way.
The dealership's existing 20 staff members will continue in their roles as the changeover takes place, the group has said.
Russell Catlow, Eden's regional general manager for the South West, said: "I'm extremely pleased to welcome the existing dealership team into the Eden fold.
"With their support, I'm confident that we will not only carry on delivering the excellent levels of service Torbay customers have come to expect, but also take it to new heights as an Eden showroom in the weeks and months to come."
Hyundai Motor UK's franchised retail network has recently seen change with the addition of six new dealerships, taking the size of the UK network to 167 locations.
The six recent openings with the Korean car brand have included: Vertu Motors' pair of new sites in Newcastle and Morpeth; Howards Motor Group's expansion to four Hyundai locations with a new venture in Weston- Super-Mare; Just Motor Group's opening of its first Hyundai operation in Preston; and Ken Brown Motors' addition of a second Hyundai site to their portfolio in Letchworth after joining the franchise in 2018.
Motorvogue, meanwhile, has expanded into Norwich following the departure of SLM Group from the network in October, while Wilsons Group added Hyundai to their operation in Epsom, further strengthening Hyundai's representation within the M25.