Hendy Group chief executive Paul Hendy has said that the AM100 car retailer's shortlisting for several AM Awards provided him and his team with a 'tangible chest puffed-out moment' in 2021.
As AM this month invited car retailers to get their AM Awards 2022 entries in early to kick-off what could become an award-winning year for their business, Hendy underlined the benefits of taking part as he reflected on last year's win in the Best Used Car Dealer Group category.
This year the AM Awards will head back into London, taking place at the Park Plaza Westminster Bridge Hotel, on May 12.
Celebrating the motivating effect of recognition from the AM Awards 2021 on the Hampshire-based car retail group's workforce, Hendy said that the award carried added significance "given the times we found ourselves in", adding: "This one was special".
"2020 and 2021 presented us with challenging trading periods, despite this the group performed very well and our colleagues deserved to be recognised for their achievements," said Hendy.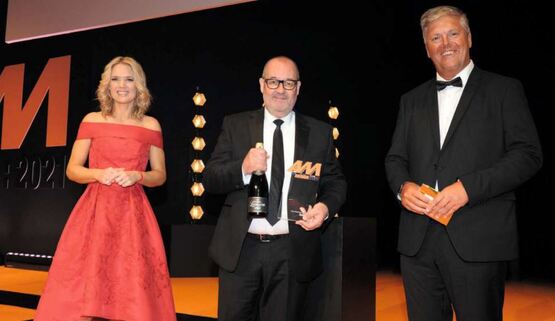 "We entered and were shortlisted for half a dozen categories, which in itself was very pleasing to see our colleagues efforts recognised. There was a tangible 'chest puffed out' moment when we shared the shortlist with the various teams."
Hendy said: "It was a fantastic achievement for the Used Car Division and the great thing about this award was the ability to share it with a large number of colleagues.
"From the smallest site with 20 cars to the biggest with 250 cars we made sure everybody felt part of the winning team."
Despite the impact of the COVID-19 pandemic and vehicle supply shortages, Hendy Group continued to grow its operations in 2021.
As well as integrating the Southampton Jaguar Land Rover (JLR) Arch Concept dealership it acquired from Inchcape UK in November 2020 it opened a new Lotus Cars dealership in Exeter and embraced the concept of flexible mobility with the launch of its new Hendy Go short- and long-term car rental service.
Hendy said that the group's AM Awards win had served to boost its recruitment efforts during the period of ongoing growth.
"I know of a couple of instances where the ability to lay claim to an award such as this has benefited us during the recruitment process," he said. "But without doubt the biggest benefit is with our own colleagues and what they get from feeling a massive part of an award-winning team."