Guy Salmon's network of 17 Jaguar Land Rover (JLR) car dealerships is set to be rebranded under the title of its parent company Sytner Group.
After 24 years under the ownership of the AM100's top car retail group by turnover, the dealerships are set to change their names as part of an upgrade of facilities which has seen £100 million already committed to redevelopments and relocations and a further £64m to come.
Among Sytner's newest JLR showrooms is the UK's only Jaguar Land Rover 'Global Statement Site', a 17,000sq-m three-story retailer in Sunbury-on-Thames off the M3 motorway.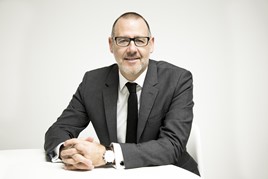 Other recent additions include dealerships in Northampton and Bristol, with a major redevlopment also underway in Sheffield.
Jaguar Land Rover managing director, Rawdon Glover, said: "Sytner Group has played an enormously important part in the transformation of the Jaguar Land Rover retail network, especially with its cutting-edge Statement Site just west of London.
"While Guy Salmon remains an important part of Jaguar Land Rover history, this rebranding provides ultimate transparency and simplicity for our customers, all the while opening up new opportunities for the Jaguar Land Rover brand."
A statement issued via JLR said the move had been made as part of a bid to create "one clear group message across digital and physical channels".
Rob Frewer, divisional managing director for Sytner, said: "For many years, Guy Salmon has been closely linked to Jaguar Land Rover, but we believe that now is the right time for us to outwardly and publicly associate the Sytner name with Jaguar Land Rover.
"Guy Salmon will always be a cherished part of Sytner's historic relationship with Jaguar Land Rover.
"The Sytner Group carries enormous strength, representing multiple premium brands with tens of thousands of customers throughout the country.
"By formally applying the Sytner name and streamlining our website and other digital channels with just one brand – Sytner – we can simplify the customer journey and better showcase the full range of offerings within the Group."
This week Pendragon revealed that it is set to become the UK's first JLR franchisee to showcase a new 'Modern Luxury' dealership design philosophy for the OEM.
Pendragon has begun the redevelopment of its Stratstone JLR franchise in Mayfair, London, and revealed that it would be mark a debut for JLR's new-look retail concept.
Integration into existing Mayfair buildings means that JLR Arch Concept corporate identity could not be applied at the Mayfair dealership.