Taxi and van manufacturer LEVC has appointed a new dealer for the Greater Manchester region.
Previously the AM100 dealer group Lookers held the LEVC franchise locally, opening a LEVC dealership in Stockport in mid-2019 near its Stockport Volvo VRE dealership, however Lookers has since closed the business as well as its LEVC Glasgow operation and it no longer represents LEVC.
Ahead of its UK launch of the VN5 electric van in 2020, LEVC granted franchises to some Volvo franchisees - both LEVC and Volvo Cars are part of China-based Geely.
Now responsibility for sales of London Electric Vehicle Company vans and taxis has been granted to HTC Van Centre, which is based in the Trafford area of Manchester, and takes the LEVC network up to 17 sales points and 31 service points.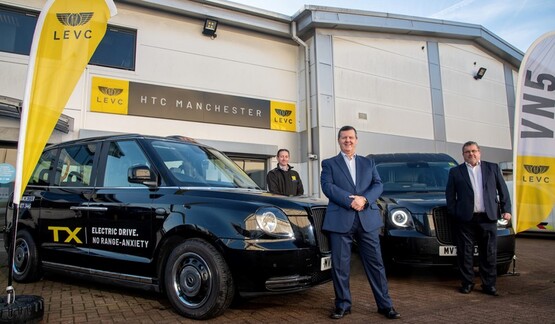 Justin Seal, HTC Group general manager, vans, said: "HTC Group is extremely proud to add LEVC to its commercial vehicle business. LEVC is a world-leading manufacturer of EVs and HTC is looking forward to showing the fantastic TX and VN5 products with our existing customer base, as well as introduce them to new customers along the way."
Joerg Hofmann, LEVC's chief executive, added: "We are delighted to welcome HTC Van Centre to our UK network, expanding LEVC's presence in one of the UK's major cities – Manchester.
"LEVC provides the leading solution for businesses looking for a no-compromise, flexible, purpose-built and green vehicle."
In addition to HTC Van Centre, MotorSave at Pendlebury in the north of Greater Manchester will provide full aftersales and services support for LEVC's TX electric taxi and VN5 electric van in the Manchester region.