Lookers director of customer engagement Karen Prince has seen her children emerge as the stars of marketing imagery applied to the AM100 car retail group's expanding range of home delivery vans.
The covered vans driving the group's recently-launched 'click and sell' used car buying platform, and its car sales delivery service, feature images of five-year-old James and seven-year-old Gracie after Prince considered ways of communicating the "excitement" of a car handover awa from the showroom.
"The vans aren't just delivering a package," said Prince. "My main aim was to get that new car feeling, that buzz, when someone is receiving their new car at home.
"I remembered when I was younger and my dad would get a new car and the excitement me and my brother felt when we went to the dealership and I knew that if I took my kids for the shoot, they'd be so excited we might be able to capture that on camera."
The new imagery on the side of Lookers' fleet of seven delivery and collection vehicles is just one part of a major multi-channel brand campaign launched by the AM100 PLC this week.
James and Gracie certainly delivered thei part of the campaign with aplomb. Prince said that, on the day of their photo shoot, they got behind the wheel of every car in the showroom.
Weeks later she had a car delivered to her home with the large-scale image of Gracie emblazoned on the side.
"My mum was there, and she was so proud I thought she was going to cry," Prince said.
New brand campaign
Lookers new marketing campaign is its first big brand campaign in more than five years and aims to emphasise its intention to place customer choice, service and value first for future-focused UK motorists.
The campaign has been rolled out across TV, radio, online, social media and outdoor – and including new signage at several dealerships.
Aiming to be colourful, funny and informative, the campaign incorporates a 'Lookers. A good deal. Better' brand message and is supported by its 'You Choose' campaign emphasising that customers can get what they want, how they want it, when they need it.
Commenting on the new campaign Lookers' chief operating officer Duncan McPhee said: "Fresh, confident and impactful, our authentic new brand campaign reflects our priority commitment to all our customers across the UK and Ireland.
"It also helps to cement our pledge to deliver unrivalled choice and the best value, service and delivery options that complements a new, modern and sustainable way of living."
Lookers success
Lookers chief executive Mark Raban recently spoke to AM for an in-depth car retail group profile feature in AM.
Last week Raban emerged from the AM Awards 2022 as Business Leader of the Year.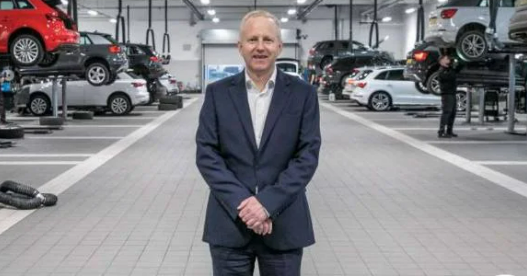 Lookers also won the prestigious annual event's Online Consumer Experience of the Year award, with its Lookers Vehicle Solutions - Fleet Financial operation named Leasing Operation of the Year.
Last month Lookers posted a pre-tax profit of £90.1 million after navigating challenging new car supplies and trading on strong used car margins to deliver record 2021 annual financial results.
Earlier this month the group celebrated its successes by hosting its annual Excellence Awards at an awards-giving event held in Paris.
And it is making efforts to add to the talent pool across its 150-site car dealership network, recently launching 'Jump Start', a programme designed for individuals keen to carve out a career in sales within the UK motor industry.