The Government has launched a consultation to end the sale of fossil-fuelled motorbikes and mopeds by 2035.
It's part of a wider plan to make walking and cycling people's first choice for short journeys.
The announcement comes one year after the government outlined its Net Zero strategy, which aims to remove all carbon emissions from transport by 2050.
Transport Minister Trudy Harrison said: "Across road, rail, sea and air we have taken decisive action to reduce harmful emissions while enabling innovation and growing the economy.
"We have provided certainty to both the industry and consumers through investment to stimulate a new market to reduce the need for fossil fuels."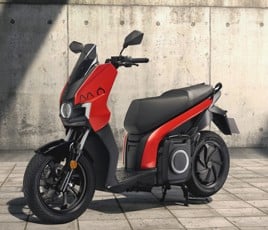 Alongside the consultation, the Department for Transport is announcing funding for a competition to help industry develop the zero-emission motorcycle supply chain in the UK.
This, it says, will help create a manufacturing base for small, emission free vehicles and could lead to thousands of new jobs across the UK.
Successful applicants for the £350,000 fund, will undertake research to support the production and distribution of new, green vehicles within the sector.
Data from the Society of Motor Manufacturers and Traders (SMMT) shows that as petrol and diesel car sales slumped last month, EV registrations grew 14.6%, reaching a market share of 16.1% (June 2021: 10.7%).
The Government is also aiming to improve health and make walking and cycling the natural first choice for shorter journeys and has published its second Cycling and Walking Investment Strategy, which sets out estimated investment, already committed from various funds, of almost £4 billion into active travel across the Government until 2025.
This progress will help meet the Prime Minister's 'Gear Change' vision to ensure half of journeys in towns and cities are walked or cycled by 2030.
The Government's report, Decarbonising Transport, one year on review' is here.