Vertu Motors has begun work to transform its Ford dealership in Hamilton into the second of four new showroom facilities for franchise partner Toyota in Scotland.
The AM100 PLC took over the Japanese carmaker's franchise on the West of Scotland from Arnold Clark in April this year and is now following up its first opening, at Darnley, South Glasgow, with the creation of a new retail space for Macklin Motors operation in the South Lanarkshire town.
Five new job roles will be created as the Whistleberry Road dealership is transformed from its previous guise as a Ford dealership into a Toyota business due to open next month.
Vertu Motors chief executive Robert Forrester said: "We're delighted that Hamilton will become the location for our second Toyota franchise in the West of Scotland.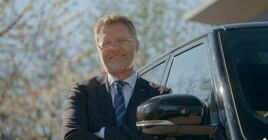 "The addition of these dealerships augments the group's representation in Scotland under the Macklin Motors brand and expands our operational footprint there. It also demonstrates our confidence in both the future of the automotive retail sector and in Scotland's economy.
"Toyota is a world-renowned manufacturer that we're delighted to represent. We have every confidence that it will become one of the most successful automotive manufacturers in the UK in the coming decade.
"We look forward to welcoming customers to Macklin Motors Toyota Hamilton and offering the very best in customer service."
Year-to-date to the end of June Toyota's UK new car reistrations are down 3.64% at 50,256 (2021: 52,156) in a market down 11.86% overall.
Vertu's investment in Toyota Hamilton represents the latest stage in a strategy which has seen the group drive towards multi-franchised retail locations across the UK.
Among the recent changes to its Macklin Motors portfolio North of the border was a £2m investment to add Renault, Dacia and Hyundai franchises to its existing Vauxhall and Ford authorised repairer site in Dunfermline, with separate sales areas for Renault, Dacia, Hyundai and Vauxhall.
That move followed the opening of a new Peugeot, Kia and MG dealership in Edinburgh.
Vertu said that its new Macklin Motors Toyota dealership in Hamilton would be its first to incorporate the new Toyota corporate identity (CI).
Among the models set to be featured in the showroom are the new Yaris Cross and the Aygo X recently reviewed by AM.