Richmond Motor Group delivered an awards double at MG Motor UK's annual awards, securing the brand's retailer, group and aftersales dealer of the year accolades.
The Hampshire-based AM100 car retail group's Portsmouth dealership was named as retailer of the year as the group as a whole was rewarded for the strong performance of its four franchised sites – including Guilford, Southampton and Bognor Regis – at the event held at The International Convention Centre, Birmingham.
A total of 11 awards were hended-out to the fast-growing OEM's best-performing dealerships on the night, with Arnold Clark, Chorley Group, Chapelhouse, Glyn Hopkin, Nathaniel Cars, Paul Rigby and Waylands also winners.
MG Motor UK commercial director Guy Pigounakis said: "We're delighted with the performance of our dealer network last year, it underpins the growing popularity of our range of cars.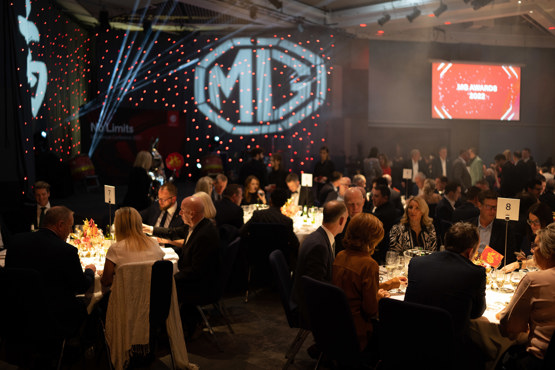 "As we head towards the release of more exciting new models this year, we're confident that we can continue to offer customers outstanding value for money and a great experience in our showrooms.
"For partners who share our vision and passion for the brand, the opportunity is huge in 2023."
Pigounakis told MG retailers at this year's awards event there were "no limits" for partners who share the company's vision for the future and commitment to further develop the brand throughout 2023.
Earlier this year he told AM that the brand's expanded UK retail network of 156 locations would be ready to deliver potential annual sales of 90,000 vehicles by the end of 2022.
He also revealed that the brand's stellar registrations growth had come despite serious supply headaches during.
Society of Motor Manufacturer and Traders (SMMT) data showed that MG ended last year with new car registrations up 66.8% to 51,050 units.
MG's success came in a year that benefited from sales of updated versions of the MG ZS SUV and MG 5 estate car, along with the addition of its new MG 4 EV hatchback.
Here is the full list of MG Motor UK award winners:
Balanced Scorecard Dealer of the Year - Richmond Motor Group
Balanced Scorecard Group of the Year - Richmond Motor Group
Best Facility of the Year - Chorley Group MG
'Customer First' Dealer of the Year - Waylands
Aftersales Group of the Year - Arnold Clark
Aftersales Dealer of the Year - Richmond MG Portsmouth
Best Fleet Dealer - Chiswick MG
Most Improved Dealer of the Year - Chapelhouse Motor Group
Rising Star - Paul Rigby Group
Innovative Dealer of the Year - Nathaniel Cars
MG4 Champion - Glyn Hopkin