Family-owned motor retailer Drayton Motor Group has rewarded dozens of its high achieving staff with a luxury celebration weekend for them and their partners.
The company, part of RJTK Automotive which runs dealerships under the Wilson & Co, Drayton Motors and Autohub brands in Lincolnshire and Lancashire, decided that its 2023 Drayton Motors Distinction Awards would be held in central London and treated staff to a two-night VIP stay at the five-star Marriott Hotel London County Hall, overlooking the Houses of Parliament and the London Eye.
The colleagues included people from all levels within the group, from valeters and technicians to heads of business, accounts apprentices and HR specialists.
On the Friday evening they were welcomed by RJTK's directors to a sumptious dinner in a private dining area at Raymond Blanc's Brasserie Blanc at Southbank, then on Saturday afternoon they enjoyed virtual clay pigeon shooting at Clays Bar in Moorgate.
Saturday night was the celebratory highlight of the weekend, with a black tie dinner and awards ceremony inside County Hall, after which a live band plus disco kept guests entertained into the early hours.
"Throughout the year, our colleagues are scored on their performance, attitude and willingness to go above and beyond, and I believe it is only right to reward them with a great celebration," managing director Darren Bradford told AM.
"We would like to express a huge thank you to all of our award-winners, senior management and directors for travelling to celebrate our success in London."
Bradford, who was recently promoted from Drayton's managing director to group managing director for the whole of RJTK, revealed that next year's event would encompass Wilson & Co achievers too.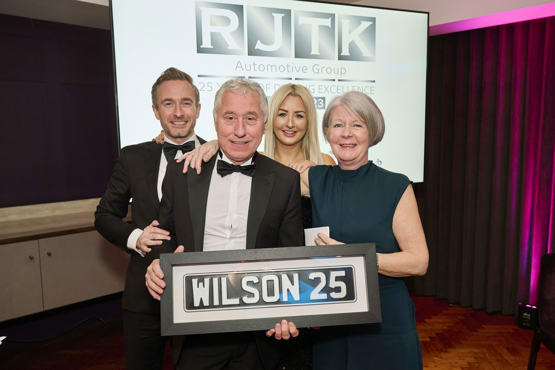 He also surprised RJTK group's founder and chief executive, Robin Wilson, together with his wife Janet, son Tom and daughter Katie (pictured above), with a personal presentation to mark the 25 years that have passed since Robin Wilson opened his first dealership at Scunthorpe with Vauxhall.
The winners were:
Manager of the Year - Amanda Lakofski (Boston Suzuki)
Sales Executive of the Year - Adrian Silaghi (Boston Kia)
Service Advisor of the Year - Claire Reed (Louth Kia)
Technician of the Year - Jack Dutton (Louth Kia)
Valet Team of the Year - Boston Suzuki
Parts Team of the Year - Boston Kia
Site Co-ordinator of the Year - Jon Davy (Louth Kia)
Admin Support of the Year - Kim Judd (Boston Suzuki)
Apprentice of the Year - Summer Johnson (Louth Kia)
Best Performing Site of the Year - Boston Kia
Employees' Employee of the Year - Troy Eldred (Grantham Kia)
Special Recognition Award - Sean Faggetter (Louth Kia)
Directors' Choice Award - Robert Plowman (Boston Suzuki)
In addition, a number of employees received rewards for their 100% attendance during 2022.
One guest of the group was AM editor Tim Rose, who also presented an award to accounts apprentice Summer Johnson. He said: "It was fantastic to see for real the family-feel ethos of this growing family-owned motor retailer, and to witness first-hand the enthusiasm and appetite for fun that its staff share."
Last decade the group's Drayton Motors Kia dealership in Boston received AM's Best UK Dealerships To Work For trophies in 2017, 2018 and 2019 until AM ceased the award that year.
And in 2018 it won the AM Award for Best Used Car Performance.