Vertu Motors' continued strategy to scale the group has delivered over £4 billion in revenues for the first time as the business reported better than expected profits.
The group, which has a retailer network of 189 sales and aftersales sites, revealed its latest financial results which showed a revenue increase from £3.61bn in 2021 to £4bn for the year ended February 28, 2023.
Adjusted profit before tax halved from £80.7 million to £39.3m over the period. However, this was ahead of analyst expectations and Robert Forrester, Vertu chief executive said the business is in a "healthy financial and operational position".
Profits were affected by "significant cost headwinds driven by inflation".
He said: "The year was critical for the group as we undertook our largest ever acquisition and generated over £4bn of revenues for the first time.
"The Helston businesses have now been integrated into our systems platform.
"The acid test was how our core group and new dealerships performed in March and April and I am delighted to report that the trading result post year end has been encouraging and gives confidence for the year ahead.
"The reported results reflect a strong profit and excellent cash performance, both ahead of expectations. As a result, we have chosen to propose a significantly increased final dividend, delivering a 26.5% higher dividend for the year as a whole.
"The business is in a healthy financial and operational position to further develop and gain from the benefits of scale as sector consolidation continues."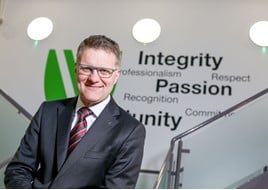 Mike Allen, Zeus Capital head of research, said Vertu's FY23 results beat Zeus estimates at a revenue, underlying PBT and net debt level.
He said: "A highlight from the latest results was the £54.3m of free cash flow generated in the period (FY22: £44.4m), equivalent to 15p per share, which meant group net debt (ex. leases) was £75.4m, £9.6m better than Zeus forecast.
"This is a major improvement on the £100m-£110m guided in December 2022 when the Helston acquisition was announced.
"A strong cash performance has meant that group is able to announce a new £3m share buyback."
Scaling up and reduced Jaguar representation
Vertu's group portfolio grew by 31 sales outlets during the year, including 27 from Helston and two from BMW Motorrad acquisitions.
Andy Goss, Vertu chairman, said the group has delivered "successful and meaningful scale growth" through its acquisition activities.
Vertu's ambition to further scale the business is born from its belief that scale benefits can be maximised from a larger group.
Goss said: "Manufacturer relationships are key to the delivery of these benefits, and I am proud that the Group has such good relationships with its chosen manufacturer partners.
"This is due to operational delivery and a strong, mutual respect."
Vertu said there is still "significant firepower" to facilitate the group's growth ambitions in the future and it has not ruled out further acquisitions.
While the business is focussed on adding more businesses it has also been disposing or terminating businesses in some areas too.
Vertu sold its standalone accident repair centre in Newcastle to Steer earlier this month.
It will also reduce its Jaguar representation down from six to one in Leeds following Jaguar Land Rover's Re-imagine strategy, which will see Jaguar become a luxury electric vehicle brand with a reduced number of locations across the UK.
Vertu's Leeds location will continue to represent both Jaguar and Land Rover. The termination of the five Jaguar operations has cost the business £1.5m.