Motors.co.uk has partnered with what3words to provide car buyers with more precise addresses when visiting dealer showrooms.
The new location technology uses three-word addresses that enables buyers to find dealerships more easily.
It works by dividing the entire world into 3m x 3m squares. What3words then uses an algorithm to take GPS coordinates and convert them into unique addresses that are easy to remember, use and share.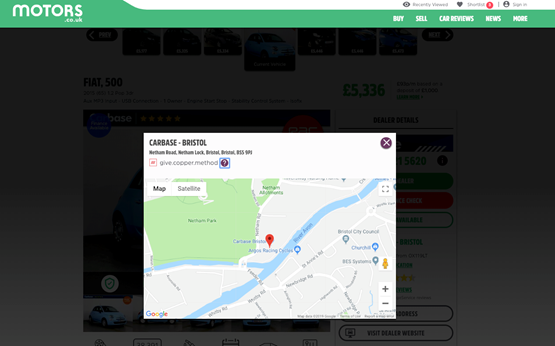 Dealers can guide customers to their main entrance, using a level of accuracy that traditional addresses cannot always provide.
Shane Horsfall, product director of Motors.co.uk, said: "It's important that we don't underestimate how much each step of the buyer's journey contributes towards their mindset and ultimately their purchasing decision.
"If we can make getting to the showroom as stress-free as possible, it will play a big part in how the customer will perceive the overall dealer experience."
Alex Jones, head of marketing and digital for Carbase.co.uk, added: "This innovative solution addresses a real problem we are facing. Following the postcode to our Bristol store for example can leave you in a frustrating loop in the city's one way system. We welcome technology that removes this unpleasant and unnecessary friction."