Swansway Group is hoping to take on web-savvy used car supermarkets with a newly-launched Motor Match website offering free provenance checks and independent review content to assist consumer car searches.
Developed by automotive software provider Nexus Point, the new website allows car buyers to compare used cars from a variety of manufacturer brands, gain free vehicle history checks through integration with MotorCheck, access a finance calculator and research their purchase.
Earlier this year Swansway announced that it was set to invest £3.25 million to expand its Motor Match used car operations into Bolton and Stockport.
The family-owned AM100 retail group, which operates Motor Match Used Car Centres next door to its Swansway Honda Bolton, Rochdale and Stockport dealerships, intended to create 15 new jobs with the move.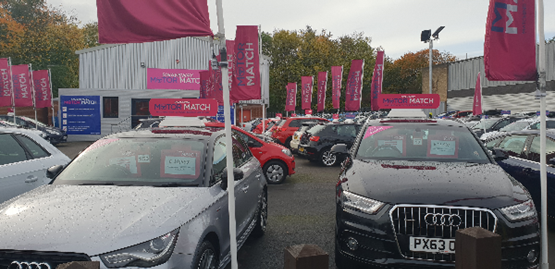 Speaking at the time Swansway director, David Smyth, said: "As a motor dealer group with a large number of premium franchises, we take many lovely pre-owned cars in as part exchanges, rather than send these to auction or sell on to traders, Motor Match allows us to give retail customers the opportunity to purchase these excellent cars.
"We only retail those cars which we believe offer our customers great value and the expansion of our Motor Match sites will mean we can retail more of these cars."
Commenting on the newly-created Motor Match website Ben Giller, head of technology at Nexus Point, said: "Swansway Motor Group approached us through a strong relationship, as they wanted to build an independent, consumer-focused website and they knew that we were leading car supermarket specialists and therefore the right partner for them.
"We built the new Motor Match website, powered by our Apex platform, to empower visitors to make informed decisions on their next vehicle, before they reach the dealership.
"The technology being used also provides highly optimised pages for technical SEO - something that is very important to us, so our customer gets the best experience for their end users. We are also supporting Motor Match with strategic digital marketing campaigns to significantly increase traffic."
Anna Ling, Swansway Group's marketing manager, said: "We have a long-standing relationship with Nexus Point, so when we were looking for a partner to deliver on the criteria for our Motor Match website, they came forward with some excellent suggestions and have delivered a sector-leading site, which gives potential customers a super-fast and highly informative experience".
Nexus Point works with some of the UK's leading car supermarkets including Fords of Winsford, CarSupermarket.com, Motor Range, Best Car Buyer, Motordepot, Fleetwood Car Centre, Philip Paul and many others.
Arnold Clark Automobiles claimed the Website of the Year accolade at the AM Awards 2019.
The retail group's website, initially launched in 2015, uses data to inform its users' needs and has tailored its design strategy accordingly.
It gained praise from awards judges thanks, in part, to an in-house team which – through live chat data and entry point analysis – identified users' needs when buying a car and created Deal Builder.
The tool serves as a one-stop-shop for instant online trade-in valuations, finance quotes, and test-drive bookings.