Motorpoint and Peter Vardy's recently expanded Carz used car division have both launched new advertising campaigns focussing on the ease of their omnichannel car retail offering.
Motorpoint will be launching its new brand campaign, with a 'tongue in cheek advert' which follows characters, the 'Explorer' and his sidekick 'Willis', on their quest to find their new car, while avoiding some of the pitfalls traditionally associated with the car buying journey, Motorpoint said.
The advert, which features Jacob Avery, Lydia Bakelmum and Tim Fitzhigham, will also appear nationally in cinemas as well as across all social media, digital and Out of Home (OOH) channels over the coming weeks.
Hayden Vokes, marketing director at Motorpoint, explained: "The car buying journey can sometimes be a bit of a daunting experience for consumers with recent research we conducted revealing 51% of people found it to be an intimidating experience.
"And yet it really doesn't have to be like this thanks to companies such as Motorpoint with its simple and straightforward service backed by unbeatable prices on low mileage, nearly new cars.
"We've always prided ourselves on our friendly hassle free, haggle free buying experience and the message behind our new brand campaign is simple – avoid all the typical stresses and pitfalls of finding a great value, great quality used car by getting straight to Motorpoint."
Motorpoint recently revealed that it sold 61% of its used car volume online in Q1 as it accelerated its ecommerce retail offering to deliver a record start to 2021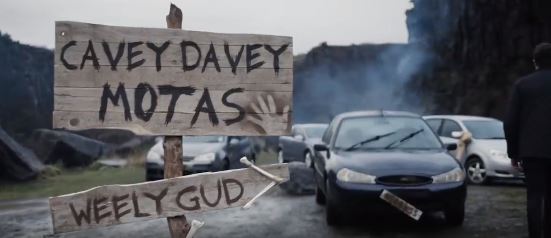 Peter Vardy is also launching its 'Car buying has evolved' new Carz campaign, this week, highlighting the an old-school car sales process with the help of Neolithic car salesman 'Cavey Davey'.
Peter Vardy Group chief executive officer, Peter Vardy, said: "This week see's the launch of our new Carz campaign 'Car Buying Has Evolved'. We couldn't resist poking a little fun at the common stereotype associated with car sales, hopefully "Cavey Davey" gives you all a bit of a laugh.
"I think it's amazing to see how far our business and the industry has evolved over the last year. Exciting times ahead."
Peter Vardy Group has officially left the Vauxhall franchise network and launched its Carz Supermarkets brands at six former franchised sites across Scotland.
At the start of 2021, Peter Vardy announced it would go head-to-head the likes of cazoo, carzam and cinch with a rebranded and expanded used car retail division following improved turnover and profitability in its 2019 annual financial results.