The Financial Conduct Authority (FCA) has confirmed its move to ban all discretionary commission models in motor finance to save car buyers £165 million-per-year and eliminate "conflicts of interest" in the sector.
Set to come into force from January 28 next year, the ban follows consultation in October last year which was expected to result in a final decision in Q2, before the COVID-19 coronavirus held-up the FCA's decision-making process.
Christopher Woolard, the FCA's interim chief executive, said: "By banning this type of commission, where brokers are rewarded for charging consumers higher rates, we will increase competition and protect consumers.
"We estimate that consumers could save £165m because of today's action."
The FCA said that, during the course of its investigation into motor finance, those contesting its plan to implement a ban on discretionary rates said that a ban would penalise those firms that use these commission models to deliver a customer benefit – the Reducing Difference in Charges (reducing DiC) model.
"Similarly, a trade body argued that disclosure alone would allow consumers to make informed decisions about the true cost of a product," the FCA said.
Others argued that an interest rate cap would provide an effective solution.
But the FCA concluded that an outright ban would be the "most effective way of addressing harm".
Its report, published today (July 28), said: "While some firms may feel comfortable that they can operate these commission models responsibly, they still present brokers with an incentive to charge customers more.
"The harm we identified in the motor finance review – which looked at Increasing DiC, Reducing DiC and Scaled models - shows that robust, proportionate action is required."
Commenting on the FCA's announcement, Adrian Dally, head of motor finance at the Finance and Leasing Association (FLA), said: "This is a welcome announcement from the FCA as it provides clarity for the industry. We are also pleased that the regulator accepted our point about the need to monitor the consumer hire market as the ban on discretionary commissions does not extend to personal contract hire agreements."
Commission disclosure
As part of the changes made by the FCA, it has also amended its guidence related to commission disclosure.
CONC 3.7.4G is amended so it is clear that firms should disclose the nature of commission in their financial promotions (as well as when making a recommendation).
The FCA said that the guidence clarifies that firms should consider the impact commission could have on a customer's willingness to transact and that firms should consider whether and how much commission can vary depending on the lender, product or other permissible factors and tailor their disclosures accordingly.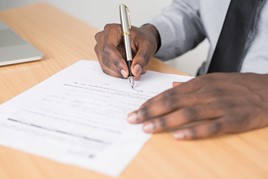 CONC 4.5.3R clarifies that the existence and nature of commission arrangements where the commission varies depending on the lender, product or other permissible factors should always be disclosed prominently.
The disclosure must also cover how the arrangements could affect the price payable by the customer, it said.
The FCA described its changes to commission disclosure as "relatively minor", adding that they had been designed to be "low cost and result in refinements to firms' existing practices".
It said: "We believe our changes will make it more likely that consumers get timely information. In turn, this should increase (consumers') ability to make more appropriate decisions."
Costly credit
The FCA said that the current discretionary finance rates offered by some car retailers and brokers created an incentive to sell more expensive credit to some customers as a result of commission which is linked to the interest rate that a customer pays.
Under the discretionary system, a broker can effectively set its own interest rate and the FCA found that the widespread use of this type of commission creates an incentive for brokers to "act against customers' interests".
Preventing the use of this type of commission would remove the financial incentive for brokers to increase the interest rate that a customer pays and give lenders more control over the prices customers pay for their motor finance.
Many car retailers have already moved away from a discretionary model. However, the FCA said that it has agreed to give firms limited additional time to implement the new rules in the light of consultation feedback and the additional operational pressures which the sector is facing at present.
Mystery shops
It also issued a warning to finance operators who might seek to find a new commission-based model to reinstate higher levels of income from motor finance, however.
The FCA said: "We will look closely at any attempt by a motor finance firm to introduce a commission model that could lead to the same harm that we have sought to ban.
"We will monitor how well firms comply with the ban on discretionary commission models by carrying out supervisory work across a sample of firms. This work will start in September 2021.
"We will also carry out a point-of-sale mystery shop exercise to measure lenders' control over dealer networks."