The Finance and Leasing Association (FLA) has said it expects a "strong rebound" in the automotive finance sector after car showrooms emerge from COVID-19 'Lockdown 3' on Monday.
With dealerships in England and Wales will open their doors to customers once again from Monday, April 12, the FLA said it expects the value of the sector to rise to pre-pandemic levels by the end of the year.
Its show of confidence came as it reported a fall in new business volumes of 27% in February 2021, compared with the same month in 2020, as the sector battled to deliver amid ongoing lockdown restrictions.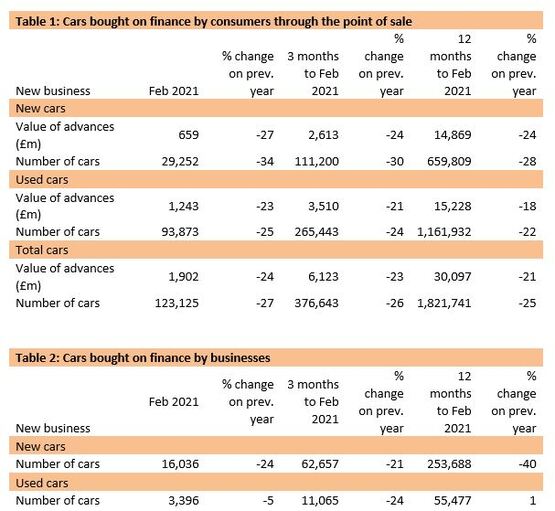 The consumer new car finance market reported a fall in new business volumes of 34% (to 29,252) in February compared with the same month in 2020 as the value of advances declined by 27% to £659m.
The consumer used car finance market reported new business volumes 25% lower in February than in the same month in 2020, at 93,873, as the value of advances declined 23% to £1.24bn.
Commenting on the figures, Geraldine Kilkelly, director of research and chief economist at the FLA, said: "The UK lockdown restrictions over the winter months contributed to a fall in consumer car finance new business volumes of just over a quarter.
"As car showrooms re-open and consumer confidence recovers, we expect a strong rebound in demand. The value of annual new business in the consumer car finance market is expected to reach its pre-pandemic level this year."
The percentage of private new car sales financed by FLA members in the twelve months to February 2021 was 92.8%, the FLA said.
The results of an exclusive AM survey, conducted in partnership with JudgeService, recently revealed that the car retail sector's senior leaders expect consumer confidence to be the biggest hurdle to the sector's recovery once 'Lockdown 3' restrictions on non-essential retail are eased next week.
However, confidence was boosted by news of March's 11.5% year-on-year rise in registrations and reports of strong digital sales performance in recent trading updates from Lookers and Motorpoint this week.