TrustFord has claimed the Fleet News Awards' Fleet Dealer of the Year award for a third time in five years.
The Ford of Britain-owned AM100 car retailer beat competition from Lookers Vehicle Solutions and Johnsons Fleet Services, which has won the award for the past two years, to reclaim the award it won in 2018 and 2019.
Around 1,200 people attended the Fleet News Awards, which was held at the Grosvenor House Hotel, London, this week.
The Fleet News awards judges said: "TrustFord demonstrated a major focus on customer loyalty and retention. Its use of video technology for vehicle handovers has improved driver satisfaction while its expanding mobile servicing network has significantly reduced vehicle downtime for fleets.
"The group also stood out for its partnership with The Prince's Trust, offering young people free training and an apprenticeship, as well as its work with automotive charity BEN."
Stuart Mustoe, acting chairman and chief executive of TrustFord following the recent retirement of Stuart Foulds, said: "I am absolutely delighted that our team has been recognised as this year's Fleet Dealer of the Year.
"It is not only testament to the Fleet team's incredible work ethic and energy but also to the wider TrustFord teams who have done so much to drive innovative initiatives, such as our national mobile servicing offering and the bespoke 360-degree support that gives TrustFord such a unique positioning in the fleet market."
Also representing the franchised car retail sector at this week's Fleet News Awards was Lookers Vehicle Solutions.
It was highly commended in the Leasing Company of the Year - up to 20,000 vehicles category ultimately won by ARI.
Double celebration
TrustFord's awards win made for double celebrations this week.
On the same day as its awards win the group officially opened its newly-upgraded Transit Centre in Barnsley.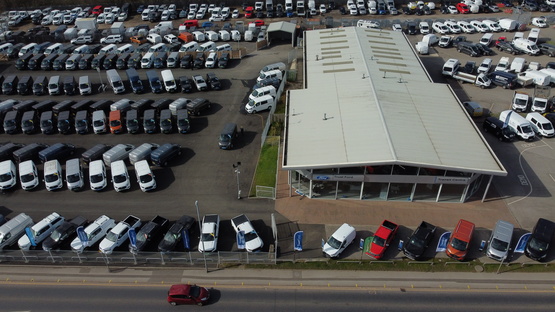 Following a £500,000 investement the facility is now TrustFord's largest commercial vehicle site.
Mandy Dean, director of commercial vehicles at Ford of Britain attended the event along with Ryan Baker, national commercial vehicle sales manager at Ford Motor Company and members of the TrustFord board and leadership team.
The event's guests of honour, however, were TrustFord executive assistant Angela Mallinson and parts advisor David Sykes who recently celebrated 20 years and 30 years of loyal service, respectively.
Mustoe said: "The redevelopment of the Transit Centre in Barnsley is an important milestone for us.
"The newly upgraded site will give us the scale and resources to meet our customers' needs today and, importantly, into the future.
"Im looking forward to seeing how these enhanced facilities help colleagues in Barnsley continue to deliver the excellent service that they are known for."
Dean said: "I look forward to seeing how this latest investment in the Transit Centre will help an already successful team bring their customers an enhanced and exciting new commercial vehicle retail experience."