Ben has been forced to postpone its Industry Leader Challenge to climb Mount Kilimanjaro due to COVID-19 travel restrictions for Tanzania.
Car retail industry leaders from Marshall Motor Holdings and JCT600 had hoped to raise over £300,000 for the automotive industry charity as part of a team set to climb the landmark African peak between October 30 to November 8.
Tanzania's inclusion on the UK Government's 'red list' of international travel destinations has temporarily put paid to the expedition, however, resulting in a gruelling schedule of UK-based climbs for the group.
It is the second delay for the ILC, which was originally scheduled to take placve in 2020.
Plans are underway to proceed with the climb in February 2022, but Ben's director of partnerships, engagement and income, Matt Wigginton, has already set the additional challenge of taking on the National Three Peaks challenge.
Ben's ILC accounts for 10% of the charity's annual fundraising income, so the challengers remain determined to reach its £300,000 target by the end of March 2022.
Wigginton said: "We're disappointed that we can't tackle Kili this year, so that's why we've decided to take on the gruelling National 3 Peaks Challenge during the same week in November to keep us on our toes.
"Together with our intrepid team of industry leaders, we're committed to challenging ourselves and raising the £300,000 we desperately need so we can continue to support our automotive family."
JCT600 chief executive John Tordoff and director of customer experience Andy Bateman are among those taking on this year's ILC alongside Marshall commercial development director Adrian Wallington and VW divisional head of sales Clive McGregor.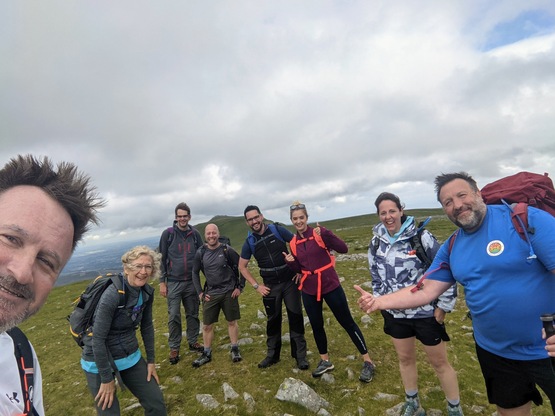 Participants have already trekked through the Surrey Hills, the Malvern Hills, the Peak District, the Brecon Beacons, Mount Snowdon and the Yorkshire Three Peaks as part of a gruelling training regime.
They have clocked up over one million steps, walking over 725km and well over 30,000 metres of height gain – the equivalent of almost six times Kilimanjaro.
And the pace of practice has already helped Ben raise £50,000.
The National Three Peaks Challenge will be completed by the group during the same week as the planned Kilimanjaro expedition – from October 31 to November.
It will involve climbing the three highest peaks of Scotland, England and Wales, covering a total walking distance is 23 miles and the ascent is over 3,000 metres.
Wigginton said: "Thank you to everyone who has donated to the challenge so far, you're amazing. The ILC is a crucial part of our annual fundraising programme and, now more than ever, your support is vital.
"We have had a record number of automotive people ask us for help this year and last so, by donating, you're making sure we can continue to be there, especially during these challenging times."